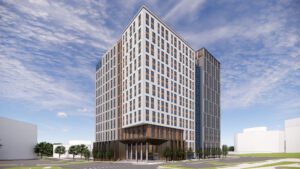 It is becoming increasingly difficult for families living on a low-to-moderate income to find housing that is affordable. As housing costs reach unprecedented heights, the production of new housing is failing to keep up with the growing demand, resulting in a severe deficiency of available homes across the nation. Addressing this critical shortage of  affordable housing demands a collaborative effort involving various sectors and stakeholders. 
HR&A Advisors is pleased to announce the closing of $55 million in financing through the Amazon Housing Equity Fund (HEF) for the development of 516 new permanently affordable homes at Dominion Square. Located in Tysons, Fairfax County, Virginia, Dominion Square is being developed by the Arlington Partnership for Affordable Housing (APAH), a renowned non-profit developer in Northern Virginia. HR&A collaborated with Amazon and Arlington Partnership for Affordable Housing (APAH) to underwrite an Amazon HEF loan. 
Dominon Square is in a transit-rich neighborhood, just a five-minute walk (0.3 miles) to the Spring Hill metro station and several bus stations, providing residents with reliable and affordable transit options to high-quality schools, economic opportunities, and amenities across the region. The project will also include a 30,000 square foot community center for the Tysons community, to be operated by the Fairfax County Neighborhood and Community Services department. Dominion Square will be the first 100% affordable housing multifamily development at scale in Tysons, and the largest project ever developed by APAH. 
Amazon's $55 million commitment, initially announced in May 2022, helped catalyze and accelerate the Dominion Square redevelopment. As a result of Amazon's initial interest, APAH increased the scale and accelerated the delivery timeline for much-needed affordable housing. $9 million of Amazon's funding will be available to APAH to fund pre-development activities, helping the non-profit finance the significant upfront costs associated with this large-scale project. 
The Amazon Housing Equity Fund is providing more than $2 billion to preserve and create over 20,000 affordable homes in Amazon's home communities of Washington's Puget Sound region, Arlington, VA and Nashville, TN. HR&A works with Amazon as a credit underwriter for transaction in the Washington DC Metro Area and Nashville. 
Additional Coverage  
Dominion Square Affordable Housing Community Secures Development Site and Funding 
Amazon-Backed Affordable Housing Towers Moving Forward In Tysons 
Rendering: KGD Architecture