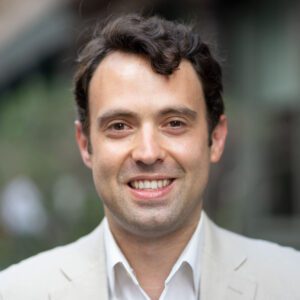 Ignacio Montojo
Principal
Ignacio Montojo serves infrastructure and real estate developers and investors, international finance institutions, and public agencies in planning and delivering complex transportation, broadband, climate, and large-scale urban development projects globally.
Ignacio brings deep analytical rigor and a strong quantitative background to support the delivery of capital projects, through market analyses, funding and financing plans, public-private partnerships, and economic and fiscal impact studies. Ignacio's work in the United States has ranged from supporting transit agencies such as the MTA, GoTriangle, and WMATA devise and execute partnerships for joint development, to working alongside two dozen municipalities and states to define actionable funding, financing, and delivery strategies for their capital plans. More recently, Ignacio has supported HR&A's emerging work in distributed energy resources and electrification, including co-leading an assessment of New York City's state of electric vehicle charging infrastructure.  
Abroad, Ignacio's work for the World Bank Group and the Inter-American Development Bank in more than a dozen countries has positioned him as a torchbearer of HR&A's growing international practice. His prolific work on value capture funding and financing in Brazil, Colombia, and Costa Rica has resulted in substantial legal and regulatory changes and accelerated the adoption of tools such as tax increment financing and the sale and transfer of development air rights by municipalities and transit agencies such as Metro de Medellin. More recently, he has led the firm's efforts to measure and illustrate the benefits of climate adaptation and mitigation investments in several cities in South Africa and Egypt.  
At HR&A, Ignacio is a mentor to several colleagues, including those who share an international background and an interest in the built environment. At the firm, he is an active member of the Technical Advisory Group that develops internal tools, models, and templates and trains new staff in advanced quantitative analyses. Internally, he has also spearheaded the development of HR&A's digital tools, including the Infrastructure Funding Navigator that helps governments and communities identify and assess their readiness for pursuing federal infrastructure funds.  
Prior to joining HR&A in 2015, Ignacio worked for Hotusa Hotels in Barcelona, where he supported the renovation and opening of the group's properties in Europe and Latin America. Ignacio holds a master's degree in Real Estate Development from Columbia University and obtained the 1st Thesis Award for his global comparative Real Estate Investment Trust study. Ignacio also holds graduate studies in finance and accounting. Previously, he obtained a Degree in Architecture from UPC BarcelonaTech. He is an active member of the Urban Land Institute New York Infrastructure Council and the Young Professionals in Infrastructure and has been a guest lecturer to urban planning and real estate students at the Harvard Graduate School of Design and the Stuart Weitzman School of Design at the University of Pennsylvania. 
Registered Architect, Spain
Member, Urban Land Institute, Young Leaders Group
Member, Urban Land Institute, NY Infrastructure Council