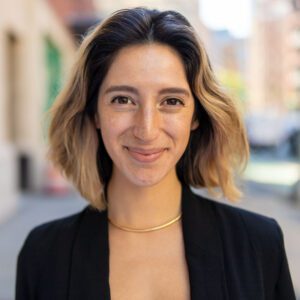 Francis Goyes Flor
Senior Analyst
Francis is an affordable housing practitioner and urban planner. She brings national and international real estate policy, finance, and development experience centered on creating equitable cities and communities.
Francis joins HR&A's New York office as a Senior Analyst. Prior to joining HR&A, Francis was an Associate Developer at Pennrose, one of the largest affordable housing developers in the country, where she worked as a project manager on mixed-use, mixed-income deals across New England. Francis previously worked at MassHousing, the Massachusetts' housing finance agency, where she created new supply- and demand-side policies and programs to address housing challenges and narrow the racial homeownership gap. Francis has also worked as a consultant with The World Bank, providing research, analysis, and recommendations for new housing finance policies and programs in Indonesia, Myanmar, and the Maldives.
Her prior work includes housing collaborations with resettled war refugees in Colombia, Jordan, and Uganda, disenfranchised indigenous communities in Guyana, incarcerated men in California, and rural-to-urban immigrants in Ecuador and Myanmar.
Francis holds a Master's in City Planning from the Massachusetts Institute of Technology and a Bachelor of Fine Arts in Architecture from the University of Massachusetts, Amherst.
Urban Land Institute, Member
American Planning Association, Member