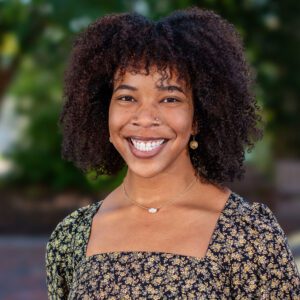 Jayla Hart
Research Analyst
Jayla provides research and analytical support for a variety of real estate projects, with an interest in advancing affordable housing and sustainable community development.
Prior to joining HR&A, Jayla interned with The Bridges Collaborative, a nationwide school and neighborhood integration project at The Century Foundation. During her internship, she reported on progressive education policy and worked with various school districts and fair housing organizations. Jayla also served as co-chair of the Resident Staff program at the University of Virginia where she led a campaign to increase food access for resident advisors and strengthen organizational equity. Additionally, Jayla has conducted social psychology research for several years, with a focus on how perceptions of racial history influence policy support. When she isn't at work, Jayla is a poet and spoken word artist who loves to bake and read.
Jayla has a Bachelor of Arts in Sociopolitical Psychology and a Master of Public Policy degree from the University of Virginia.