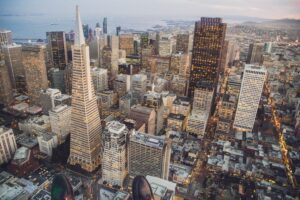 This press release was originally issued by Supervisor Dean Preston.
San Francisco, CA — As the city and the country grapple with severe shortages of financing for affordable housing, green infrastructure, and small businesses, the San Francisco Board of Supervisors formally accepted a plan to create the first municipal bank in the nation.  
The approved proposal comes at a critical time as the city continues to navigate ongoing concerns with the post-pandemic economic recovery. The plans include a business and governance plan for creating a publicly owned municipal financial corporation (MFC) and then converting the MFC into San Francisco's first public bank.  
"As we continue to chart a path to economic recovery and a sustainable economy, the plans approved today provide a road map for our city to create the first municipal public bank in the country, a crucial strategy to ensure that our city funds are used to reverse inequities, not perpetuate them," said Supervisor Dean Preston. "The approved plans are a huge step forward toward establishing a San Francisco Public Bank." 
Public banks are not novel, with over 900 institutions worldwide controlling tens of trillions in assets, but a municipal bank would be a first for America.  
"The plan for the new public bank in San Francisco prioritizes social impact over shareholder returns while being financially self-sustaining, robustly managed, and accountable to San Franciscans' policy goals and values," said HR&A Advisors Partner Andrea Batista Schlesinger, "It will collaborate with community lenders and organizations to achieve this vision. 
The business and governance plans were over a year in the making. The Working Group consisted of community leaders, public banking and Community development financial institution experts, and small business leaders. The Working Group worked closely with HR&A Advisors, leaders in inclusive economic development, investment, governance, and stakeholder and community strategies; the Findley Companies, experts in establishing de novo banks and providing guidance on management, operations, and compliance in California; and Contigo Communications, San Francisco-based practitioners who co-construct solutions that reflect the needs of community members. 
"Given the continuing failures of our banking industry, we are stepping up in innovative ways to provide a green and equitable alternative to big banks. Our investment in the public bank protects the future of our local economy and the financial interests of San Franciscans," said Budget Committee and Local Agency Formation Commission Chair, Supervisor Connie Chan. "We will continue to build on this momentum until we get this done." 
Traditional private banking has failed to offer sufficient access to financial services for residents and small businesses, especially in communities of color. The consequences of that lack of access include inequitable economic, employment, health, affordable housing, and environmental outcomes that continue to this day. 
"It's crucial we move immediately on these plans and establish a green bank." said Jackie Fielder, co-founder of the San Francisco Public Bank Coalition "President Biden's Inflation Reduction Act presents a rare opportunity to get substantial funding for community-centered and equity-focused green banks." 
Now that the plans have been approved by the Board of Supervisors, the city can now take action to implement an MFC or public bank in San Francisco. 
For more information on the final plans, visit https://sfgov.org/lafco/reinvestment-working-group  
Photo: Jared Erondu