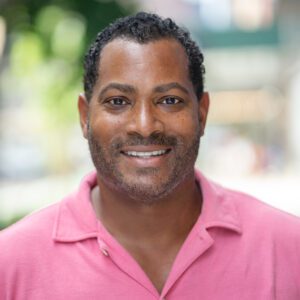 Derek Fleming
Senior Advisor
Derek brings over 20 years of experience managing public-private developments that create value and preserve community culture.
Derek Fleming bring his skills in deal structuring, negotiations, capital raising, business development strategies, and community engagement to HR&A. Derek plays a leadership role in grappling with how, as the economic effects of COVID-19 persist, policymakers will assure that the recovery doesn't exacerbate the economic disparity that COVD-19 has uncovered, but rather creates a new paradigm for equity in urban redevelopment. Working to re-align approaches to development in communities of color, he focuses on crafting deals that assure successful outcomes for all.
Prior to joining HR&A, Derek has had a career spanning both private and public sector. For the past five years Derek has served as Managing Partner of MSDG, LLC, where he and his partner, Miami-based developer Michael Simkins, focus on urban infill and community-oriented sustainable redevelopment projects. During this time, he co-led a team advising the City of Miami on a redevelopment strategy for the Historic Overtown Cultural & Entertainment District and managed the development and adaptive re-use construction of an historic building for entertainment purposes. Prior to MSDG, Derek served as VP of Development of MSG, LLC, working with business partner Chef Marcus Samuelsson to launch a global hospitality business. Derek led design & construction and business development for enterprises such as Red Rooster, where he is a partner.
Derek's 12 years of public sector experience focused on neighborhood revitalization and economic development. At Empire State Development, NY State's economic development agency, Derek managed a NY Empowerment Zone public lending portfolio of $60 million for real estate and business development transactions in some of New York City's most economically marginalized neighborhoods, in particular Harlem and the Bronx. During his four years as Project Manager for the San Francisco Redevelopment Agency, Derek successfully led a team through the entitlement and re-zoning of the 300-acre underdeveloped Mission Bay brownfield site, leading to the development of over 1,500 affordable housing units as well as retail, commercial, hotel and market-rate housing.
Derek holds a bachelor's degree from the University of California at Berkeley and an MBA from Kellogg School of Management. In addition to his role as Senior Advisor at HR&A, Derek is senior board member of the Neighborhood Charter School Harlem & the Bronx.