on Nov 13, 2023
HR&A at Urban Tech Summit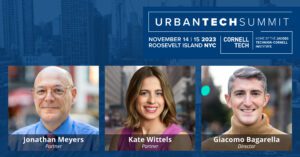 HR&A is excited to engage with entrepreneurs, policymakers, industry leaders, and public sector officials to delve into how cities worldwide are advancing decarbonization at the 2023 Urban Tech Summit. This two-day event at Cornell Tech's campus in NYC will address technology, finance, and workforce trends shaping urban decarbonization prospects, fostering knowledge exchange through panels, keynote speeches, fireside discussions, and interactive workshops. The Urban Tech Summit serves as a comprehensive learning platform with the goal of igniting innovative solutions. 
Be sure to catch HR&A Leaders at these speaking engagements: 
November 14, 10:20 AM | HR&A Advisors Partner Jonathan Meyers will be a panelist on the Decarbonizing Building: Beyond Local Law 97 panel. Panelists will discuss the leading solutions for energy, efficiency, electrification, and carbon capture. 
November 15, 2:15 PM | HR&A Advisors Director Giacomo Bagarella will facilitate the Climate Innovation Workshop: The Future Workforce: From fear of AI to fear of missing out.  
November 15, 3:35 PM | HR&A Advisors Partner Kate Wittels will be the moderator for the Innovative Funding Approaches for Climate Tech panel. As the climate tech market grows more established, it's essential to consider the future trajectory of the venture capital market for climate tech over the next decade and understand the various mechanisms that support innovation in this field.