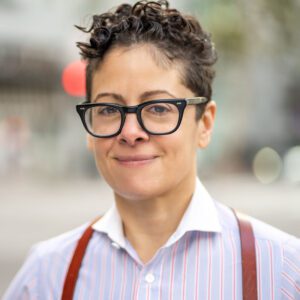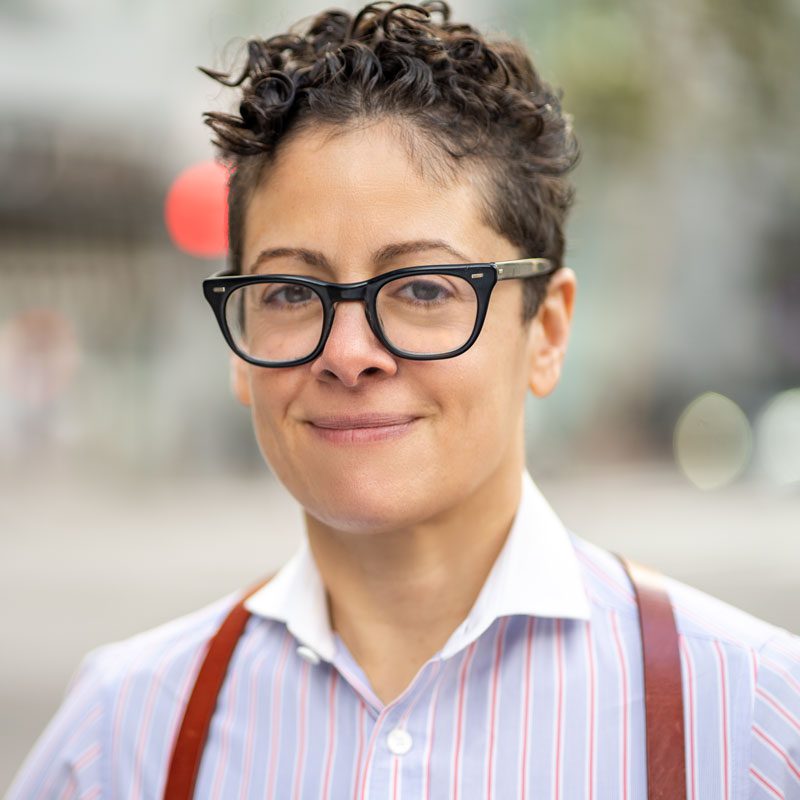 Andrea Batista Schlesinger
Partner
Andrea Batista Schlesinger and her Inclusive Cities practice works to make cities more just and equitable. Working for visionary clients from grassroots activists to elected City and County leaders, Andrea designs strategies that center racial equity and economic justice. Her practice aims to be the bridge between intention and implementation, translating victories for justice into the systems change required to make a meaningful difference in people's lives.
As a former leader in government, think tanks, philanthropy and political campaigns, Andrea uniquely understands the capacity and role of government, advocacy, and philanthropy in making cities just and dynamic places. Since joining the firm in 2017, Andrea and her team have taken on projects that disrupt the traditional processes of economic development, lead to greater political power for marginalized communities, increase accountability of local governments, and institutionalize mechanisms for more just and equitable cities.
Equitable Economic Development
Andrea helps disrupt traditional approaches to economic development by centering equity as their goal, and equipping community members with the understanding to coopt the tools of economic development to advance a new vision for their cities.
In Dallas, TX Andrea advised the Trinity Park Conservancy on real estate investments and program strategies to leverage a $150M park investment to benefit neighboring communities where decades of discriminatory city policies hindered wealth creation and created conditions for high poverty and displacement. Our Equitable Development Toolkit recommends tactics to prevent involuntary displacement, create opportunity neighborhoods, protect cultural heritage, promote wealth creation and community ownership, and establish equitable policies and practices for park management and operations. The Conservancy's early investments and partnerships with the City of Dallas and community groups are being guided by these recommendations.
In Pittsburgh, PA Andrea and her team advised a grassroots coalition, the Economic Justice Circle (EJC), on the development of a campaign to disrupt the status quo in economic development by demanding transparent, equitable and accountable City budgeting. Andrea's team led an analysis of Pittsburgh's existing and proposed capital and operating budgets and supported the EJC in raising concerns about the budget's impacts on Black and Latinx Pittsburghers to Mayor Peduto, members of City Council, and civic leaders.
Systemic Change
Andrea's work within criminal legal systems is predicated on the notion that in order for any locality to be serious about equitable economic development, it must grapple with the history of policy, program, and practice that built and continues to use oppressive physical structures and community supervision to target Black people and residents of color. Andrea's work in criminal justice reform includes:
Leading a feasibility analysis and implementation strategy for the City of Philadelphia in deploying neighborhood resource centers ("NRCs"), which are neighborhood-based one-stop centers that will offer holistic education, workforce, and other social services for justice-involved populations.
Working with the philanthropy of Trinity Church Wall Street in New York City, Andrea is working to address the challenges presented by inadequate access to safe housing for those involved with the criminal legal system and who are being released from Rikers Island due to COVID-19.
Working with the NoVo Foundation in New York City to support the proposed conversion of a former women's prison into The Women's Building, an inclusive meeting and community space for women of all backgrounds.
Andrea advises cities and philanthropies on strategies for building the autonomy, creativity, and accountability of municipal governments through public banking. She led a public bank feasibility study for the City of Seattle, which was then seeking to divest itself from Wells Fargo. For the Open Society Foundations, Andrea led a series of industry conversations to understand how public banking could support shared ownership and economic democracy. She is currently working with the City of Philadelphia to evaluate the feasibility of establishing and operating a public bank to support small local businesses.
Economic development decisionmakers frequently use "workforce development" as a proxy for strategies that attract and retain new residents to fill jobs in high-growth sectors like tech. Andrea's work challenges this assumption – she seeks to build workforce programs that tap into the skills and drive of existing residents, many of who face unemployment and poverty due to a lack of access to education and discrimination. She helped expand the Skillful Initiative for the Markle Foundation in the states of Colorado and Indiana, an effort to change how employers hire and career coaches advise so that jobseekers without college degrees can connect to quality jobs. For the Bronx-based non-profit, HERE to HERE, Andrea's team conducted a feasibility study for the long-term operations of an employer coalition dedicated to the development of young talent in the Bronx. HR&A's efforts for HERE to HERE led to the formal launch of the Bronx Private Industry Council in May 2019.
Visionary Leadership
Andrea helps visionary leaders fulfill their aspirations: Supporting the historic transition plan for Harris County Judge Lina Hidalgo – the first woman and first Latina to hold this position in the largest county in Texas. Provided strategic guidance on Judge Hidalgo's first 100 Days policy agenda, which included launching "Talking Transition," one of the most expansive government-led public engagement initiatives in Harris County's history. Over 11,000 people participated in the survey and over 1,600 attended events to provide their stories, ideas, and perspectives. Thousands of residents were engaged to inform the new administration's policy priorities in its first year and, in doing so, the initiative has catalyzed a growing network of relationships between County government and hundreds of experts, activists, and community leaders throughout the region – in total 200+ organizations were involved.
Andrea also designed and executed a pioneering mayoral exchange program to support Puerto Rico's recovery after Hurricane Maria, pairing 27 Puerto Rican mayors with U.S. mainland mayors to facilitate the exchange of disaster recovery best practices. The program not only equipped Puerto Rico's mayors with an unprecedented direct line to counterparts for advice, consultation, and sharing of technical expertise to address fiscal, economic, and rebuilding challenges; but also leveraged the Exchange-matches to establish visibility and urgency behind support for Puerto Rico on the U.S. mainland. The Exchange led to the formation of La Liga de Ciudades de Puerto Rico, a first-of-its-kind nonpartisan platform for mayoral collaboration, launched in November 2018. La Liga is designed to unite mayors in creating a community-focused strategy for Puerto Rico's long-term reconstruction and beyond.
Andrea regularly works with foundations to help devise strategies for impact, from the Ford Foundation's efforts to advance a bold, progressive housing agenda at the national level in 2020, to the Mother Cabrini Health Foundation's work to identify a grantmaking strategy for affordable and supportive housing in New York. Her work with Ford was rooted in a recognition of the significant role that federal housing policy and funding regimes have played in directly creating and reinforcing racial divides in this country—and the opportunity afforded by the 2020 elections to ensure that housing justice and equitable development are prioritized in national policy discussions. On behalf of Ford, she led a team in surfacing prevailing norms, emerging policy platforms, and existing power dynamics to inform strategy recommendations for Ford in 2020. As a direct result of this work, Ford is investing $1 million in a housing transition "playbook" that will leverage a potential turnover in administrations to advance housing reforms that center racial and economic justice. For the Mother Cabrini Health Foundation HR&A's analysis and recommendations equipped the Cabrini Foundation with a newfound, nuanced understanding of the state of affordable and supportive housing in New York, which enabled them to thoughtfully select an ideal strategy based on evident need, the foundation's own core capabilities/values, and the maximum potential for impact.
Andrea has led numerous executive searches, always for clients with whom we are trusted partners. Our team, led by Andrea, excels in our deep, targeted searches because we are not a search firm, which we view as our greatest strength. We only conduct searches for clients with whom we have a close and substantive relationship, and our searches are always an extension of these strategic relationships. We apply what we know about our clients to searches, rather than trying to get to know them through a search. We understand the landscape they operate in – not just the Board of an organization, but their funders, competitors, stakeholders, influencers, and their institutional challenges, vision, and goals. What this means in practice is that we have done our homework long before we have been engaged for a search. We know what candidates will have to implement because we played a role in helping shape it. We argue that this is why the searches that we have conducted have been so successful.
This was true for La Liga, a brand-new organization whose effectiveness would be entirely reliant on its credibility from "day one," and an organization we had helped build. In the case of HERE to HERE (H2H), the deep knowledge of the organization that we had built in executing a feasibility study for a Bronx Private Industry Council (Bronx PIC), to be housed within it, led us to recruit a leader for the PIC over an intensive ten-week search period. Andrea applied her executive search experience to inject new and diverse voices into the federal housing policy landscape, conducting the search for a Senior Fellow to lead the housing transition playbook project on behalf of the Ford Foundation.
COVID-19 Pandemic
In response to communities grappling with the disparate impacts of COVID-19, Andrea and the Inclusive Cities practice have supported public and non-profit partners in advancing a just and resilient recovery from the pandemic:
For the City of New York City, HR&A is analyzing the most strategic potential market for and a fund to capitalize the conversion of small and mid-market businesses to worker owned cooperative enterprises. We are identifying which businesses would be best to target as we brace for the small business closings anticipated in the recovery from COVID-19, and see conversion as a chance to keep businesses serving communities, preserve jobs, and provide the opportunity for African-American and Latinx workers to build wealth.
HR&A is working with the philanthropy of Trinity Church Wall Street in New York City to address the challenges presented by inadequate access to safe housing for those involved with the criminal legal system and who are being released from Rikers Island due to COVID-19.
HR&A is working with the Economic Justice Circle in Pittsburgh, PA to support their advocacy for the equitable distribution of COVID recovery funds. HR&A is analyzing how stimulus funds have been distributed to date and which funding resources remain at the State, County, and City levels that can support minority-owned businesses, tenants at risk of eviction, universal COVID-19 testing, healthcare access, and re-entry services and housing for individuals recently released from jail.
City Government, Foundation, and Non-Profit Leadership
Prior to joining HR&A, Andrea served as Deputy Director of the United States Program of the Open Society Foundations (OSF), George Soros' global philanthropy, where she managed program operations and grant-making portfolios including investments to advance equitable economic development in Southern cities. Her projects included efforts to tackle state preemption of local laws, raise the minimum wage, improve the wages and working conditions of childcare workers, and support progressive local elected officials throughout the country. While at OSF, Andrea also launched the innovative civic engagement initiative, "Talking Transition." Previously, Andrea also served as a Special Advisor to New York City Mayor Michael R. Bloomberg, where she coordinated the Young Men's Initiative a $130 million comprehensive package of policy reform and programmatic initiatives designed to reduce the disparities challenging young African American and Latino males. In addition, Andrea led the process to prohibit City agencies from asking about an applicant's criminal history on initial job application documents or in the initial interview, as well as limit criminal history considerations to felony convictions, unsealed misdemeanor convictions, and pending charges. Andrea's work in this function led to New York City's first Executive Order to "ban the box." For nearly ten years, Andrea ran the Drum Major Institute for Public Policy, a think tank founded during the civil rights movement by advisors to Rev. Dr. Martin Luther King, Jr.
Andrea received her Bachelor of Arts in Public Policy from the University of Chicago and holds Masters degrees in History from Columbia University and the London School of Economics, where she focused her studies on how global cities have constructed their responses to inequality during the latter half of the 20th century.