on Sep 28, 2023
Prosper Nashville: Shaping Equitable Economic Development for All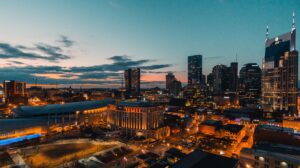 This opinion piece was originally issued by The Tennessean.
Nashville is everywhere! Our hot chicken is on menus across the globe (big thanks to Prince's Hot Chicken ). We still seem to be the bachelorette party capital (whether we like it or not!). The city is buzzing for sports with the addition of Major League Soccer, the new Titans stadium that will transform the East Bank, and the pitch to bring Major League Baseball to town. Major concerts, Broadway shows, AmericanaFest, CMA and Dove Awards sustain Nashville's brand as Music City.
It is no wonder Nashville has been ranked No. 1 as the Urban Land Institute's top markets to watch in their 2023 Emerging Trends in Real Estate report.  And while this great news and growth is great for tourism and positively contributes to Nashville's local economy – we need be intentional on managing growth because Metro Nashville is developing at seemingly lightning speed.
Consider this: In less than 10 years, many census tracts are now at or exceeding the national median income due to the influx of affluent residents, especially within Nashville's urban core, leading to a high level of displacement of native Nashvillians, local artists, teachers, and others who made Nashville home.
Simply put, it is great that Nashville has continued to be in the limelight, but at what point will Nashville's growth be equitable? When will all Nashvillians prosper?  Annually, Metro Nashville's Department of Social Services, publishes the Community Needs Evaluation and it shows that social and economic wellbeing for many residents remains in decline.
How Prosper Nashville came to be and why it matters
Nashville is at a crossroads, politically, economically, and socially. Not only have we been on every national news outlet in the past few months, we are currently about to experience a shift in leadership with the election of a new mayor and council.
While Mayor John Cooper recently left office, he understood the implications of this growth to Nashville stating, "…our vision is of a Nashville that works for everyone, a Nashville that grows and meets the needs of every neighborhood and every family. With that goal in mind, it is crucial to consider all demographics—race, gender, socioeconomic status, and age—and ensure people of all backgrounds are supported."
Prosper Nashville was designed to do just that, redefining not just Nashville's narrative but creating an economy for all. Former Mayor Cooper started this study in 2022 and recently announced the community engagement component to create an inclusive and equitable economic development strategy – an action plan – for Metro Nashville and Davidson County.
The Mayor's Office of Economic Development is leading this effort with support from HR&A Advisors, an economic development advisory company with national experience crafting strategies to promote more equitable, resilient, and dynamic communities.
Working closely with community stakeholders, this plan brings partners to the table across hospitality, real estate, nonprofits, healthcare, educational institutions, and businesses, large, small, and local ­– to strategically plan a bright, resilient, and inclusive future for Nashville. These partners know what Nashville has done well and will help us do even better for everyone.
We want the public's input to see Nashville grow equitably
Selected by the office of the mayor, members of the local community are serving as action committee members to share their perspective and expertise on these topics to guide the future of Nashville: innovation and small business, competitiveness, economic development systems, talent and workforce, and place-based solutions.
Committee meetings are ongoing as the plan is constructed. Even better, the larger community and public will be fully engaged in this strategy and action plan.
Should you have an idea about how Native Nashvillians and newcomers, especially our Black and brown residents, can benefit from Nashville's ongoing growth, please email the Prosper Nashville team at prosper@nashville.gov and stay up to date at Prosper Nashville to be a part of shaping our future.
Let's grow Nashville the right way, so all will prosper equitably.