on Sep 29, 2023
The White House Acknowledges the 10,000 Communities Initiative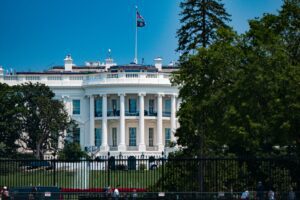 President Biden is leading an economic revitalization effort that prioritizes the middle class and underserved communities. His "Investing in America" agenda offers an unprecedented opportunity for states, territories, Tribal nations, and local governments to make transformative investments in infrastructure, clean energy, and climate resilience. 
To ensure that the full advantages of the Biden-Harris Administration's "Investing in America" agenda reach the communities and regions that require them most, it demands a collaborative effort not solely from the federal government but also from diverse non-federal entities. Much of this progress would not be achievable without the substantial contributions of philanthropic organizations, which have stepped forward to aid states and local communities in implementing this unique investment opportunity. 
HR&A Advisors collaborated with the Milken Institute to support the 10,000 Communities Initiative, which aims to connect 10,000 high-need urban, rural, and tribal communities with the capital, capacity, and talent required to secure and deploy federal climate and infrastructure funding. The Milken Institute's Community Infrastructure Center platform and our Infrastructure Funding Navigator connects community project sponsors to federal and non-federal funding sources and project readiness tools to help communities develop loan-worthy, grant-worthy and investment-ready projects.   
This resource aids communities in developing projects that are eligible for loans, grants, and investments. This initiative facilitates effective access to new federal funding for communities and organizes regional events across the United States to advance project pipelines.
Philanthropy has historically played a pivotal role in promoting climate action and providing vital support such as capacity-building, technical guidance, and direct assistance to nonprofit organizations and marginalized communities. As seen by our work above philanthropic efforts are creating fresh perspectives and resources to support communities in accessing and utilizing federal infrastructure funding.  
Learn more about our work and partners on the CIC and at the 10k Initiative here. 
Read the full white house report here.