on Sep 30, 2022
Philadelphia is ready for a public bank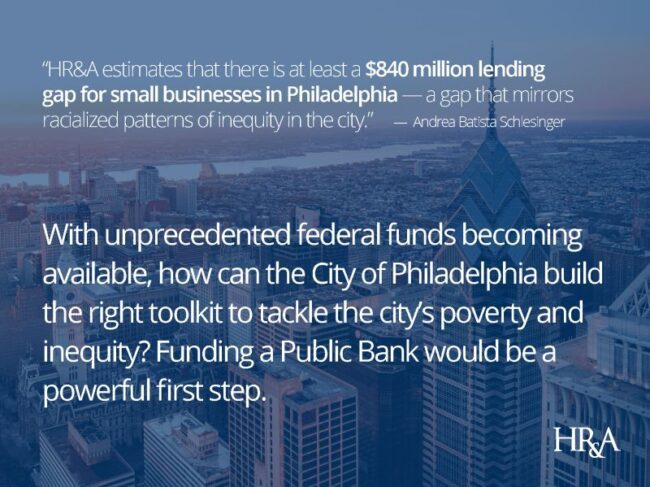 This opinion piece by Andrea Batista Schlesinger was originally published in The Philadelphia Tribune.

The financial system in Philadelphia is failing its residents. Almost a quarter of Philadelphia's population lives below the poverty line, with 1 in 10 living in deep poverty, and more residents are unbanked or underbanked than in any other major U.S. city. Philadelphians have identified a strong potential solution: creating a municipal public bank to address historic inequities in providing access to quality banking and financial services.
After years of careful planning and deliberation — including engaging HR&A Advisors to conduct a landmark study on this solution — the City Council passed legislation in March to establish the Philadelphia Public Financial Authority. There are many tools a city can use to address historic racialized gaps in the private banking system, and Philadelphia is employing some of them, but HR&A's study revealed that the existing programs are not sufficient to address the scale of the challenge.
HR&A estimates that there is at least a $840 million lending gap for small businesses in Philadelphia — a gap that mirrors racialized patterns of inequity in the city. To address that chasm, we need a bold, innovative solution to bring stronger financial autonomy to every corner of the city, rather than the existing patchwork of pale improvements.
Philadelphia's lowest-income neighborhoods are home to 50% of the city's households but just 9% of the city's small businesses. Low-income neighborhoods also have the lowest percentage of small business loans across the city. It's no coincidence that a vast majority of small business are located in more affluent areas. Black and Latino residents are 18 times more likely to be unbanked than white residents in the Philadelphia region.
City Council adopted a plan to create a City-controlled authority that would lend direct capital to those small businesses in low-income neighborhoods. Even more importantly, if City Council follows through with funding, it could leverage the City's municipal deposits — a massive pool of wealth that dwarfs the capacity of mission-driven credit unions or community banks.
The current system is not adequately addressing Philadelphia's dramatic racial divides. The Philadelphia Public Financial Authority would be empowered to address these divides in multiple ways: by providing loans to small businesses in underserved neighborhoods, by financing community economic development entities to build these neighborhoods up, and by offering lower-cost banking services. The authority would also fund and foster the growth of community-benefiting initiatives like renewable energy, housing accessibility and public education. These services could transform the lives of a generation of Philadelphians who have been consistently left behind by private banking institutions.
HR&A has conducted similar public banking feasibility studies for Seattle and Lancaster, California, and is currently working on one in San Francisco. In each of these studies, HR&A found that rather than take away from existing community connections, public banking entities, if thoughtfully constructed, could help empower existing organizations like small credit unions and business that are currently underfunded. This would offer more opportunities for residents who might not have a credit score or who have been turned away by larger corporate banks.
The benefits of a tool like this at the disposal of the City would be myriad. Not only would City-controlled banking bridge lending gaps to empower more small and BIPOC-owned businesses in underserved communities, but it would also drive the economic growth that leads to more and better jobs and higher incomes. Given its mandate to act as a depository and provide cash management services, the Philadelphia Public Financial Authority would also offer the City financial independence from the private commercial banking sector, which translates into savings and local control of taxpayers' money to ease access to capital to improve the provision of public goods and services.
Funding the Philadelphia Public Financial Authority is also a sound financial decision for the city. In the long-term, public bank dividends could help diversify the municipal revenue base, potentially decreasing reliance on property tax and sales tax revenues.
A Philadelphia Public Financial Authority public bank is an idea whose time is come, as demonstrated by City Council's decisive 15-1 vote to approve the Philadelphia Public Financial Authority. The City of Philadelphia needs every tool at its disposal to bring necessary services to Philadelphians who have been underserved and underbanked for far too long, and by launching this bank, the City will establish the country's first municipal public bank and become a model for the nation.