on May 01, 2023
Partner Shuprotim Bhaumik and Director Jamison Dague take a deeper dive into Long Island's Blue Economy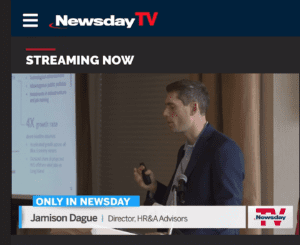 Newsday Media Group's nextLI engaged HR&A Advisors to create an in-depth analysis of the region's long-term economic outlook through a scenario that envisions an emergent ocean-based economy. HR&A Partner Shuprotim Bhaumik and Director Jamison Dague launched their report "Long Island's Emergent Blue Economy", at a panel discussion. The report examined how a Blue Economy ecosystem can benefit many industries and enhance the prosperity of Long Island in the coming decades.  
The report outlines how leveraging Long Island's Blue Economy and investing in this economic sector and evolving existing policies could add more than 60,000 jobs by 2051 and approximately 35% of jobs in the sector paid between $90,300 and $105,700 per year, on average, in 2021. 
"We see an opportunity for Long Island to create a lot of good-paying jobs, to address the existential threat of climate change by cleaning up our waterways and increasing economic output and tax revenue.", said Shuprotim Bhaumik in his interview with James Madore. In addition to reviewing Long Island's economic growth, HR&A examined regional economies centered around water activity, forecasting employment for key industries, and interviewing stakeholders to determine interventions and quantify their economic and fiscal effects.  
Read the full report and learn more about the findings and recommendations at NewsDay's website.