on May 05, 2023
Partner Kate Wittels joins Crain's New York Business to talk urban tech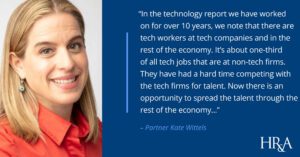 Crain's New York Business invited Partner Kate Wittels to discuss urban tech, including how technology innovation can provide economic opportunity to New York. She shares how investing in the Brooklyn tech ecosystem paid off, the hidden opportunity in the tech hiring slow down, and how we must "let tech breathe" to see how it's adapted before we draw conclusions about it too quickly. 
Kate's work specializes in the intersection of technology and city building. Her past projects have included assessing the economic and social impacts of coworking for WeWork's global membership, developing landmark methodologies for how to size the tech ecosystem and its impact on people and cities, and leading the Rice Management Company in the planning, design, construction, and implementation of a new innovation district in Midtown Houston, anchored by the 300,000 square-foot Ion Innovation hub. 
You can read the full piece here. 
Photo: Crain's New York Business | Photographer: Buck Ennis