New York City Tech Ecosystem Study
After creating a landmark study in 2013 that analyzed the size and complexity of the Tech Ecosystem in New York City, HR&A released a new study in 2021 exploring how New York City's Tech Ecosystem has changed in the last decade.
HR&A worked with a consortium of tech and civic organizations including Association for a Better New York, Tech:NYC, and Google to assess the changing landscape of the tech industry in New York City. Our methodology form 2013 established a new bar for Tech Ecosystem assessments and has been adopted widely in many other cities and has been included in academic literature on the subject. Most Tech Ecosystem studies now use the broader definition we established in 2013, which includes all jobs at tech companies and jobs in tech at companies where tech is not their core business.
READ THE FULL 2022 REPORT HERE
This working definition for the "Tech Ecosystem" divided tech into three broad categories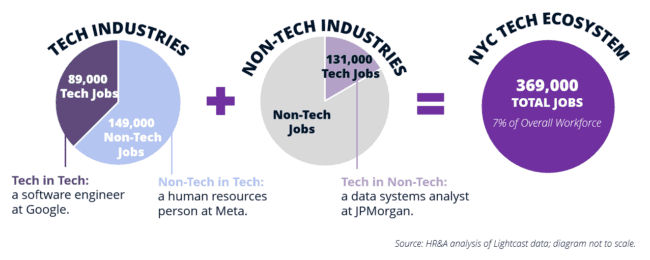 HR&A used this working definition to estimate the number and distribution by occupation and firm type of tech ecosystem jobs, and to model and evaluate the ecosystem's economic and fiscal impact to the City.
Tech jobs are increasingly prevalent across all sectors in New York City, including in industries not traditionally associated with "tech." While 65% of tech ecosystem jobs are in tech industries, a notable 35% share of jobs are in non-tech industries. Nearly 1.5X more tech workers are employed in non-tech industries (131,000) than in tech industries (89,000), particularly in sectors that are key to the city's current and future economic health – healthcare, film and media, finance, and advertising. About 60% of the tech jobs in non-tech industries can be considered "high-tech,"* focused on the creation and management of sophisticated tools, products, systems, and support services, such as network and computer systems administrators, data administrators, information security analysts, and computer and information system managers. In today's fast-changing world, these digital skills and jobs that leverage technology will only continue to grow in importance in every sector.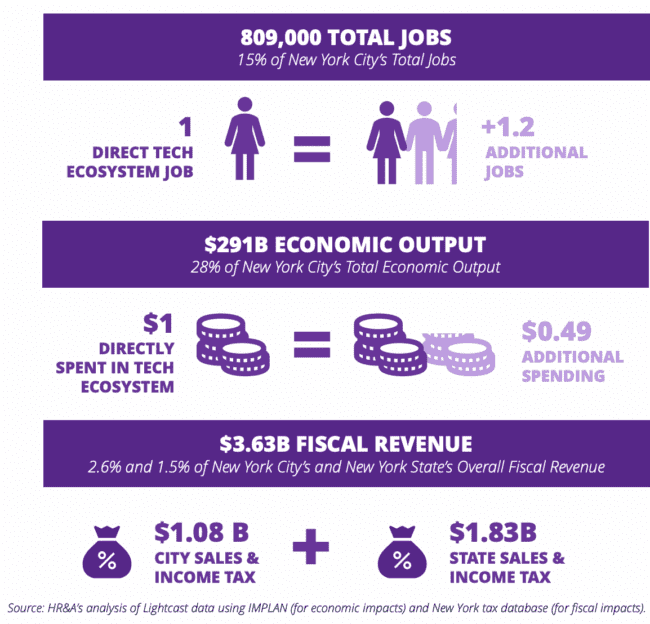 New York City's tech ecosystem generates significant economic and fiscal impacts for the city. The direct, indirect, and induced impacts of the tech ecosystem account for a total of 809,000 jobs, $291 billion in economic output, and $3.63 billion in fiscal revenue for the city and the state.
Tech jobs have larger multiplier effects on employment compared to other industries. The 369,000 direct jobs in the tech ecosystem contribute 440,000 additional multiplier jobs in New York City, representing 15% of the city's total workforce. In 2013, this share was 13%. Every 1 tech ecosystem job creates an additional 1.2 jobs, considerably higher than other top industries in the city like Finance and Insurance or Professional Services.
The city's tech ecosystem generates $109 billion in worker earnings from direct and multiplier jobs, equivalent to 16% of the city's total worker earnings. Of that, $66 billion is generated from direct jobs and $43 billion from additional multiplier jobs. In other words, for every dollar of earnings within the tech industry, an additional $0.65 in earnings is created within the city's economy.
Economic output from the tech ecosystem accounts for 28% of the city's overall economic output. This is twice the share of the tech ecosystem's output in 2013. The tech ecosystem's $195 billion in direct economic output contributes an additional $96 billion in multiplier effects. In other words, tech ecosystem investments drive additional spending in the New York City economy: every $1 spent in the tech ecosystem supports an additional $0.49 in economic output.
New York City's tech ecosystem workers also contribute billions of dollars to City and State fiscal revenues in the form of sales and income taxes. In 2021, the tech ecosystem was responsible for $696 million, or 8% of the City's sales tax revenue, and $1.10 billion or 9% of the City's income tax revenue. Similarly for New York State, the city's tech ecosystem generated $677 million in sales tax collections and $1.15 billion in income tax collections. Overall, the tech ecosystem generated $1.80 billion and $1.83 billion in taxes for New York City and New York State, respectively, in 2021, contributing a total of $3.63 billion in fiscal revenues.

Manhattan serves as the nucleus of the tech ecosystem in New York City. Adding 73,000 jobs over the last decade, the borough now contains nearly three quarters of the city's entire tech ecosystem workforce. Manhattan provides the advantage of density in businesses, workers, and office space and benefits from historic investments in tech incubators, accelerators, and other programs that grow the tech ecosystem. The remaining jobs are distributed across the outer boroughs, of which Brooklyn has the largest share with 12% of tech ecosystem jobs.
Brooklyn experienced the largest percent growth in tech ecosystem jobs of all the boroughs in the last decade. The unprecedented growth of Brooklyn's tech ecosystem can be attributed to investments in the Brooklyn Navy Yard and the Brooklyn Tech Triangle over the last ten years. By contrast, Queens, which held a similar share of jobs in 2012, has only added 3,000 tech ecosystem jobs in the last decade. The Bronx and Staten Island have seen no meaningful growth.
The report has been featured in:
READ THE FULL 2013 STUDY / READ THE 2017 UPDATE