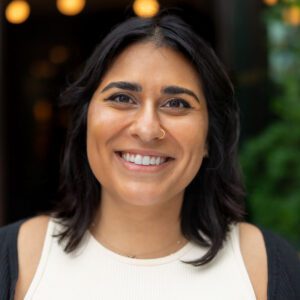 Shreya Balhara
Director
Shreya leads the design, development, and delivery of new programs to support broadband and digital equity in affordable housing — a portfolio designed to reach more than five million homes across the United States.
As a Director based in the New York office, Shreya manages the design and implementation of programs to deliver affordable, reliable broadband in affordable housing, and the provision of digital inclusion services.
Prior to joining HR&A, Shreya managed multiple cross-departmental improvement initiatives, including increasing digital connectivity for affordable housing residents at Jonathan Rose Companies, a for-profit affordable housing developer. She also served as the Deputy Director of the Community Opportunity Fund, a nonprofit dedicated to providing services to improve the lives of affordable housing residents. In this role, she oversaw the foundation's grant writing and reporting processes, managed service programs for residents, including a telehealth intervention program, and developed the organization's first strategic plan. She also has a long history of working in the nonprofit space, especially in relation to free expression and academic freedom at PEN America and Scholars at Risk, in the areas of advocacy, communications, program development and implementation, and direct services.
Shreya has a Bachelor of Arts in Political Science from New York University, a Masters in Human Rights Studies with a focus on Housing Rights from Columbia University, and a Masters of Business Administration from the Stern School of Business at New York University.
Member, Beta Gamma Sigma