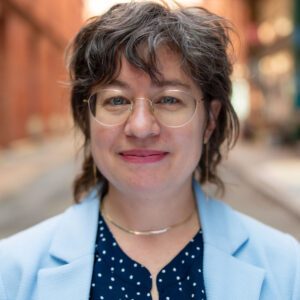 Greta Byrum
Principal
Greta Byrum is an urban planner specializing in broadband technologies and tech policy, equity, governance through program design and collaborative action research.
She serves as Principal for Broadband and Digital Equity Principal at HR&A Advisors, and is an Opportunity Fund Fellow with the Benton Institute for Broadband and Society.Previous to her work with HR&A, Greta led tech policy and community engagement projects for seven years at New America as Director of the Resilient Communities program and Director of Field Operations for the Open Technology Institute; and built Resilient Networks at New America, a $4.2 million post-Sandy partnership with the New York City Economic Development Corporation, the Department of Housing and Urban Development, philanthropic organizations, and community-based organizations. She went on to found Community Tech NY, a nonprofit training community members as Digital Stewards to build storm-resilient community WiFi in NYC, Detroit, and rural Tennessee.
Greta also co-founded and built the Digital Equity Lab at the New School with Maya Wiley; and built and launched the $11m Just Tech Program for the Social Science Research Council, an initiative dedicated to imagining and creating more just technological futures. Greta is a Harvard Loeb and a Fulbright Fellow and has been called to testify for the Federal Communications Commission, the Federal Trade Commission, and Government Accountability Office.