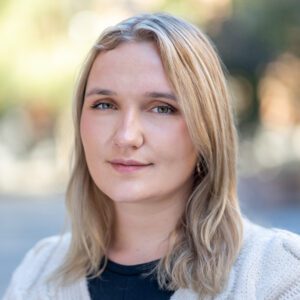 Ella Brady
Analyst
Ella Brady advises public and private sector clients on fostering equity and innovation in government systems and their partners, by developing strategies to support vibrant digital ecosystem across states, counties, cities, and communities.
Ella specializes in orchestrating stakeholder engagement initiatives, analyzing both qualitative and quantitative data, and drafting comprehensive plans and reports. Ella is an analyst on the Broadband and Digital Equity team at HR&A, focusing on increasing broadband adoption across all populations and innovating how we bring digital equity to affordable housing. Ella's recent work includes managing stakeholder engagement for the Massachusetts State Digital Equity Plan, supporting Regional Listening Sessions, focus groups, survey rollout and qualitative data analysis and plan drafting. Ella also works on statewide broadband in affordable housing programs, developing strategy through quantitative data analysis and mapping of opportunities across regions.
Ella comes to HR&A with a background in regional planning for digital equity, having worked on the Digital Access team at the Metropolitan Area Planning Council (MAPC) in Massachusetts. Prior to her work at MAPC, Ella was a Mayoral Fellow for Mayor Lori E. Lightfoot in the City of Chicago, and completed an internship at the MassHousing Finance Agency. Ella holds a Master's in Urban and Environmental Policy and Planning and a Bachelor of Arts and from Tufts University.