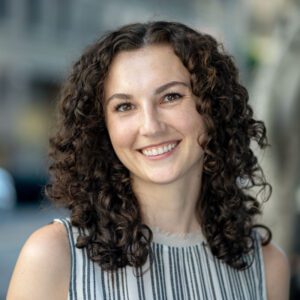 Cat Blake
Senior Analyst
Cat works with communities to leverage technology to improve social equity and quality of life. Cat is based in the Los Angeles office, where she specializes in developing and implementing public policies and programs to address the digital divide.
Prior to joining HR&A, she was a Civic Technology Analyst at CTC Technology & Energy, where she advised state, city, and county clients on the development of equitable public broadband infrastructure and adoption strategies. Formerly, she was the Senior Program Manager at Next Century Cities, where she supported local leaders with tools and information to bring affordable and reliable broadband to their constituents. In this role, Cat also researched and advocated for equitable internet policy at all levels of government, including through direct congressional advocacy.
While in graduate school, Cat worked with the Commission on Gender Equity within the New York City Mayor's Office, where she provided technical assistance to other city agencies to build a culture of gender equity. She also served as an outreach coordinator for A Better Tech, NYU's public interest technology conference and career fair.
Cat holds a Master of Public Administration with a concentration in public policy analysis from the NYU Robert F. Wagner Graduate School of Public Service, and a Bachelor of Arts in Media Studies from the University of Virginia.