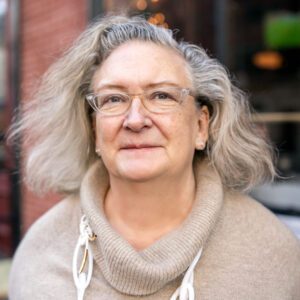 Candace Damon
Chair of the Board
Candace Damon has devoted her 30-year career to crafting sustainable urban redevelopment strategies in cities across North America.
Her specific areas of expertise include supporting master planning efforts for large-scale revitalizations, ensuring the long-term viability of urban open space, leading organizational planning for non-profits and institutions, and addressing the financial challenges of making commercial and multifamily residential buildings energy efficient. Candace also specializes in engineering successful strategies for downtown and waterfront redevelopment across the country.
Candace creates innovative development strategies for signature open spaces, and devises funding frameworks to balance operations and maintenance requirements.
She created a development strategy for Brooklyn Bridge Park; an operations and maintenance plan for Shelby Farms in Memphis, and a revenue generation strategy for a renewed waterfront in Seattle following the removal of an expressway. Most recently, Candace evaluated the economic, environmental, and social benefits created by the Dallas Park System, one of the largest park systems in the United States.
Candace engineers successful strategies for downtown and waterfront redevelopment throughout the country.
In Philadelphia, Candace provided an award-winning phasing and parcelization plan to revitalize Penn's Landing on the Delaware River Waterfront. She developed programs to attract, capture, and grow tech companies within the Brooklyn Tech Triangle by incentivizing commercial landlords to configure appropriate leases and spaces for tech tenants. Additionally, Candace advised the repositioning of Atlanta's Tax Allocation District Program to support the City's broader economic development goals and stimulate job creation. Candace has also developed successful strategies for Brooklyn, Minneapolis-St. Paul, Greensboro, Charlotte, Memphis, San Diego, and Toronto.
Candace helps clients realize the competitive advantage gained by investments in energy efficiency and creates strategies to protect communities from the destructive effects of climate change.
After convening the leaders of New York's commercial real estate industry to discuss multiple stakeholder's sustainability priorities, Candace developed standard green lease language designed to reward investments in energy efficiency, which is now used in all commercial office lease negotiations for space occupied by the City of New York. She has also designed programs and policy for the New York State Research and Development Authority, and directed the multi-disciplinary effort to develop the Natural Resources Defense Council's Energy Efficiency Lease Guidance for commercial owners and tenants. Candace guided the development of New Orleans' citywide resilience strategy, which leverages investments in resilient infrastructure to foster economic development and improve social equity.
Candace advises a variety of non-profit organizations on partnership opportunities, sustainable business planning, and real estate strategies to advance organizational mission and vision.
Candace prepared a real estate strategy for the Brooklyn Academy of Music's 600,000 square feet expansion of rehearsal, performance, gallery, and exhibition space.  She also planned for the revitalization of Peavey Plaza in Minneapolis on behalf of the Minnesota Orchestral Association. Ten years ago, Candace united six independent Brooklyn organizations – the Brooklyn Botanic Garden, Brooklyn Children's Museum, Brooklyn Museum of Art, Brooklyn Public Library, Prospect Park Alliance and Prospect Park Zoo – to create a new community partnership, the Heart of Brooklyn, for the purpose of collaborating on initiatives, and sharing resources. Candace designed its governance structure, framed its goals, and recommended an implementation strategy that drew immediate foundation interest and financial support. Since its formation, Heart of Brooklyn has undertaken a dynamic set of projects that have increased the vitality of Brooklyn's central public institutions, strengthened local businesses and attracted new entrepreneurs.
Candace is a member of the Board of the City Parks Alliance and the Urban Green Council, a founding partner of G. Works. She is also a member of the New York City YMCA Real Estate Advisory Committee, and a member of the Advisory Board and President Emeritus of the Atlantic Avenue Local Development Corporation.  She received the Women of Influence Award from the Real Estate Forum in 2008. Prior to joining HR&A in 1988, Candace worked as a Real Estate Associate at Webster & Sheffield, a Research Associate at the Lincoln Institute of Land Policy, and as an analyst at the New York City Office of Management and Budget. Candace holds a Bachelor of Arts from Amherst College and a Juris Doctor from Harvard Law School.
Honorary Member, American Society of Landscape Architecture
"Women of Influence Award," Real Estate Forum, 2008
Board Member, Urban Green Council
Board Member, City Parks Alliance
Board Member, New Yorkers for Parks
Member and former President, Atlantic Avenue Local Development Corporation
Member, New York City YMCA Real Estate Advisory Committee
Member, Urban Land Institute Redevelopment and Reuse Council