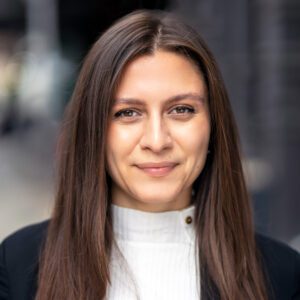 Asha Bazil
Senior Analyst
Asha collaborates with public and private stakeholders to develop equitable, resilient, and future-ready infrastructure.

Asha specializes in developing governance and funding mechanisms for broadband infrastructure deployment. She designs digital equity plans and implementation strategies for cities, counties, and states across the country to ensure that Federal broadband funding serves communities most impacted by the digital divide. Asha also works on infrastructure projects related to decarbonization and resiliency. She co-authored the first study on the impact of electric vehicle charging infrastructure on for-hire-vehicle drivers in NYC, demonstrating the ways in which public and private actors can collaborate to reduce emissions from for-hire-vehicle fleets. She also supported a benefit-cost analysis of resiliency actions in Alexandria, Egypt presented during COP 27.
Prior to HR&A, Asha supported the Philadelphia Navy Yard in the development of a new master plan to accommodate over 2.5 million square feet of development. She has been involved in planning for creative and cultural industries and led the spatial analysis for a GIZ-sponsored pandemic recovery plan supporting creative industries across seven cities in Africa and the Middle East. As a part of the Housing Initiative at Penn, she researched the efficacy of COVID-specific rental relief programs in US cities. Before planning, Asha worked in advertising technology helping companies optimize their data across online and offline channels.
Asha has a Bachelor of Arts in Economics and International Affairs from the George Washington University and a Master of City and Regional Planning from the University of Pennsylvania, where she received the Smart Cities Award from the School of Design.