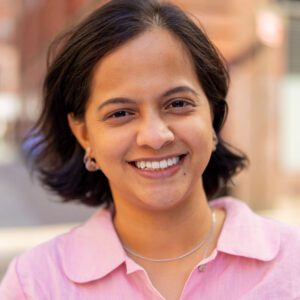 Amruta Sakalker
Senior Analyst
Amruta combines her experience in climate adaptation strategies, community organizing, cultural inclusivity, and land use policy to strengthen equity in planning.
Before HR&A, Amruta worked at the University of Texas at Arlington (UTA), where she focused on projects ranging from analyzing the coastal adaptive capacity of vulnerable communities to assisting multiple North Texas cities in developing urban design guidelines for missing-middle housing. Throughout her doctoral studies and before, Amruta has actively engaged with regional and local nonprofits and community-based organizations on community engagement projects, youth education on socio-ecological sustainability, and developed community stewardship frameworks for long-term, meaningful engagement of residents. She is also an adjunct faculty at UTA, teaching undergraduate and graduate students to conduct sustainability assessments of proposed projects to alleviate environmental and climate injustices. The course exposes students to multi-scale case studies on water resiliency, transportation, housing, environmental education, equitable food access, and others.
Amruta received her Ph.D. in Urban Planning and Public Policy from the University of Texas at Arlington in May 2023, where she has won federal grants and regional awards for technical reports and high school student training projects. She holds a Bachelor's from Mumbai University and a Master's in Architecture from Penn State.
American Planning Association, Member
American Water Resources Association, Membership Committee