on Oct 02, 2023
Partner Kate Collignon joins the Gensler podcast to discuss office-to-residential conversions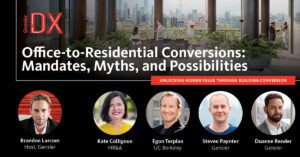 "Conceivably you could, if money were no object, make any building work for residential. It's a question of whether property owners, developers, and lenders will see that as an attractive enough investment to take that plunge." ~HR&A Advisors Partner Kate Collignon 
In this episode of the Gensler Design Exchange podcast, HR&A Advisors Partner Kate Collignon is joined by Steven Paynter and Duanne Render of Gensler and Egon Terplan from UC Berkeley's College of Environmental Design to weigh the opportunities and challenges of office-to-residential conversions and other potential solutions to help bring vibrancy back to our downtowns.  
The aftermath of the Covid-19 pandemic and the hybrid work styles that followed have sparked a need for city leaders and real estate developers to reimagine downtown real estate. To revitalize our city centers, we must think of office-to-residential conversions as one tool in our toolkit rather than a "silver bullet." While converting offices into much-needed housing is crucial, initiatives and strategies must go beyond these conversions alone. 
Take a listen and gain key insights from these industry leaders into making office-to-residential conversions a reality and learn about alternate pathways to revitalizing our downtowns.