on Nov 04, 2021
Thinking outside of the campus
Strengthening colleges and universities by creating vibrant local communities

Written by Giacomo Bagarella, Kate Collignon, Ariel Dames-Podell, and Mason Ailstock

Colleges and universities serve as economic anchors of their communities. This is especially true in small and mid-sized cities where universities are frequently the largest local employers and a primary source of young and ethnically diverse residents. As higher education institutions face demographic and financial challenges due to pre- and post-pandemic trends, they can bolster their surrounding communities – and support their long-term viability – by investing in neighborhood improvements and economic opportunity for local residents.

There are more than 3,200 public and private nonprofit colleges and universities in the United States. Beyond awarding degrees, these institutions attract new workers and residents to their towns; provide white- and blue-collar employment; and support economic mobility through their educational and training missions. This is true at a variety of scales. Texas A&M University brings federal research funds to College Station (population 114,000). In Meadville, Pennsylvania (pop. 13,000), Allegheny College attracts students from around the world and creates a pipeline into industries such as aerospace and marketing. In Greencastle, Indiana (pop. 10,000), DePauw University has supported a public-private partnership to restore downtown's historic facades and catalyze alumni investment in formerly vacant space.

Relationships between schools and communities have been decades or centuries in the making, yet current conditions make collaboration essential to buttress shared economic interests. Many institutions operate at a deficit, seeking to balance growing expenditures on facilities and programs with tuition revenue in a highly competitive market. Multiple forecasts project a significant decline in high school graduates and college enrollment in the next 10 to 15 years.

Amid these economic and enrollment challenges, schools face a need to adapt to changing student profiles and preferences. High school graduates are becoming increasingly diverse, reinforcing the imperative for all higher education institutions to ensure both the school and its surrounding community are welcoming and inclusive. Moreover, one fifth of the high school class of 2020 reported changing their first-choice institution following the onset of the COVID-19 pandemic, favoring schools that were public, closer to home, and more capable of supporting remote learning. At the same time that colleges were grappling with the shifts resulting from the pandemic, their host communities were grappling with lost revenue, activity, and cultural assets – a preview of more permanent challenges that could result without the public/private partnerships to ensure environments that sustain enrollment.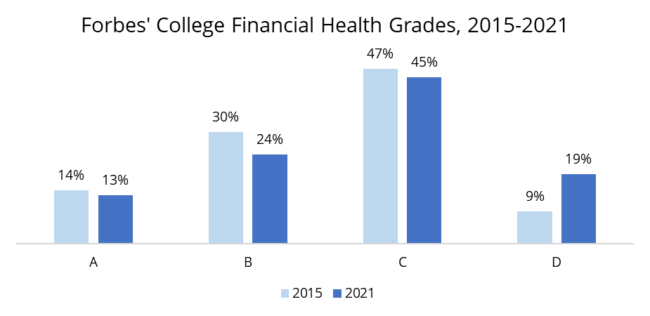 Source: Forbes evaluation of financial data from private nonprofit 4-year institutions.
Note: "F" category excluded due to lack of data. 2015 sample size: 909. 2021 sample size: 921.

55
Private nonprofit colleges or universities that closed, 2016-2019 (Forbes)

57%
Share of high school graduates who are BIPOC in 2036, up from 49% in 2019 (Western Interstate Commission for Higher Education)


As campus life slowly returns to "normal," administrators should work with local stakeholders to keep host communities vibrant and diverse over the long term. Students, faculty, and staff are more likely to choose institutions with dynamic retail and dining offerings, a walkable downtown and attractive streetscape, and vibrant local and school communities. Likewise, residents benefit from employment and business opportunities as well as cultural and other amenities offered by the institution. Several recent efforts offer promising models:

In Philadelphia, the 25-year-old University City District partnership has brought together the University of Pennsylvania and Drexel University with community organizations, nonprofits, and private companies to improve quality of life and economic vitality in West Philadelphia. Its goal is to support neighborhood vitality by transforming public spaces, providing workforce development programs, and organizing events and programming for residents, workers, and visitors. As a result, University City attracted retail and employers; local residents gained access to better job opportunities and higher wages; and the universities experienced improved public space and amenities around their medical and research facilities and saw increases in the number of graduates who found local job placements. It is of course also necessary to acknowledge that University City lies on the former Black Bottom neighborhood, thousands of whose residents were displaced by university- and hospital-led development starting in the 1950s.

At a smaller scale, since 2014 Colby College has catalyzed alumni and philanthropic investments in downtown Waterville, Maine, a city of 17,000. The College purchased and redeveloped multiple properties, creating its first downtown student housing to reinforce ties between undergraduates and the community, building a new hotel, and establishing facilities for visual and performing arts. Moreover, Colby has committed to keeping the downtown properties it acquired on the City's tax rolls permanently. These investments are helping Waterville pivot from its status as a former mill town to an attractive destination for students, businesses, and tourists. The City expects increased fiscal revenues and has already seen employment growth and reuse of formerly vacant historic buildings, while Colby believes its efforts will distinguish it from competitor institutions, attract students and faculty, and provide a richer experience by integrating students in civic life.

In Salt Lake City, the University of Utah is planning to convert the neighborhood around the Rio Grande Depot, a former train station, into an innovation district that achieves civic, educational, and economic goals. The urban district, which would connect to the University's main campus through a light rail line, would contribute much-needed teaching, lab, and office space for the university and industry in the rapidly growing biotechnology and health sciences sectors. The university plans to co-locate with employers to accelerate education, research, and commercialization, benefiting its programming and students, generating revenue by leasing space, and boosting the region's economy. As part of its master plan, it will increase the district's density, contributing affordable housing, a public green, event spaces, and streetscape upgrades to support the City's goal of revitalizing a previously neglected neighborhood.

The end goal of these and other efforts is to strengthen both universities and cities: neither can succeed if the other is left behind. Producing improved quality of life and education is a mutually beneficial imperative to strengthen finances, attract and retain talent, and foster thriving places and communities.