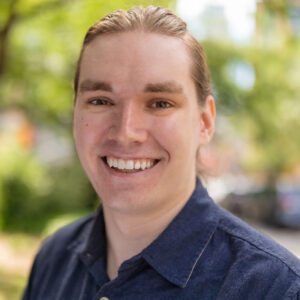 Stefan Korfmacher
Research Analyst
Stefan supports projects with research and geospatial analysis for projects in public transportation and sustainability.
A research analyst with the New York City office, Stefan enjoys incorporating information across silos to improve urban sustainability and equity outcomes. His experience ranges from storm surge mapping to municipal project management and community engagement
Prior to joining HR&A, Stefan acted as an assistant project manager at the City of Rochester Department of Environmental Services, working to improve active transportation accessibility and public space activation along the Genesee riverfront. Working with Full Circle Collaborative, his honors thesis explored small business models for implementing the circular economy and employing refugees in Athens, Greece. He has also been a freelance and fellowship researcher at Penn State University, working on lakeside flooding visualizations and urban heat island modelling.
Stefan received a Bachelor's in Architecture with Honors from Brown University, where he also specialized in environmental science and urban studies.