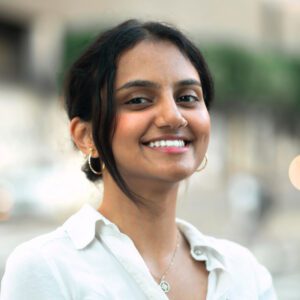 Kirthi Balakrishnan
Research Analyst
Kirthi brings her background in research, geospatial analysis, and data science to support our inclusive cities, housing affordability, and transit-oriented development practice areas.
Prior to joining HR&A, Kirthi served as a research assistant at Columbia University, where her work focused on developing a computer vision tool to empower planners to leverage street view imagery, commerce data, and geospatial analytics for the ethnographic study of enclaves in major US cities. During her time at the Center for Spatial Research, she focused on leveraging data to uncover valuable insights and inform evidence-based decision-making, and translated complex data sets into visualizations that effectively communicated information to diverse stakeholders. At SOM, she contributed to urban planning and design initiatives alongside the New York and Washington D.C. teams. Additionally, she gained valuable experience during internships at architectural firms in India and Japan while pursuing her undergraduate degree while also freelancing as a UI/UX designer.
Kirthi holds a Master's degree in Urban Planning from Columbia University and a Bachelor's degree in Architecture from Anna University.