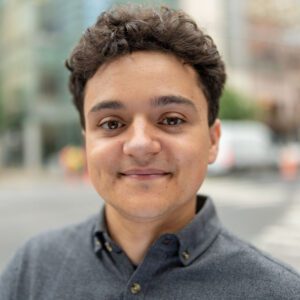 Eddie Joe Antonio
Analyst
Eddie Joe Antonio provides research, analysis, and visual communication to projects in the Digital Equity space.
Before joining HR&A, Eddie Joe worked as a landscape and urban designer for Starr Whitehouse Landscape Architects and Planners, where he helped conduct outreach, execute design drawings, and enrich streetscapes and green spaces in projects across New York City. He also apprenticed as a furniture designer in Mexico City, where he split time between a design studio and production environment.
Eddie Joe received a Masters of Science in Computational Design Practices from Columbia University and a Bachelors of Arts in Architecture from Yale University. His graduate thesis explored opportunities to enhance streetside usage of the LinkNYC system and prototyped an immersive, 3D-web storytelling format. As a research assistant at the Buell Center for American Architecture, he investigated and explored the first carbon offset project that connected pollution in coastal Connecticut to a carbon-capture site in western Guatemala. His work on this project will be exhibited as part of the 2023 Chicago Biennale.