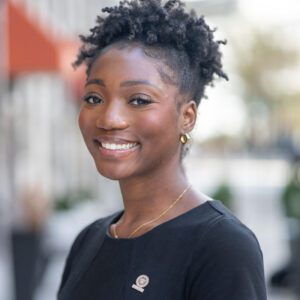 Belema Derefaka
Communications Coordinator
As a member of HR&A's Growth Team, Belema supports strategic communications by leveraging storytelling to advance the company's growth and impact.
Prior to joining HR&A, Belema worked with the 100 Black Men of Greater Washington D.C. While there, she developed and implemented initiatives that support the development of social, emotional, and educational needs of African American youth in the metropolitan area. She also worked with Future Now Action and Clean Cities Coalition. Her previous roles ignited a passion for storytelling through communication channels to promote company growth and prosperity. Her work is rooted in philanthropy and giving back, and she particularly enjoys mentoring and community engagement.
Belema is an honors graduate of Howard University where she received her Bachelors in Strategic, Legal & Management Communications. In her free time, she enjoys traveling, cooking, and learning new skills.