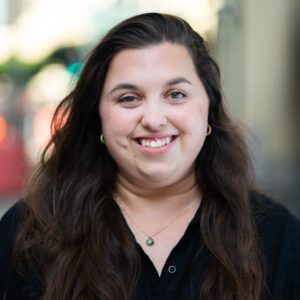 Allie Padgett
Senior Analyst
Allie brings extensive experience in economic and workforce development, where she uses quantitative analysis to increase inclusive economic prosperity and reduce geographic disparities.
Before joining HR&A, Allie worked at CIC, a social enterprise that develops innovation campuses that provide shared wet labs, public civic spaces, industry hubs, and initiatives to help startups grow. As a member of the expansion team, she identified, evaluated, and pursued opportunities in new cities, partnering with commercial real estate developers as well as academic institutions, community organizations, and local stakeholders.
Previously, Allie worked at Initiative for a Competitive Inner City (ICIC), a national nonprofit focused on expanding economic prosperity in under-resourced communities. At ICIC she worked on the Goldman Sachs 10,000 Small Businesses program, a public private partnership that helps small businesses grow and create jobs in their communities. Allie led data analysis for the team, using quantitative analysis and mapping to increase equity within the program. She also led the launch of the program's first ever rural site, which became a model for future site launches. Allie also worked as a researcher and community organizer for a union in Boston, where she focused on issue-based campaigns around wage theft and other economic and workforce issues.
Allie has a Master of Urban and Regional Planning from UCLA, where she focused on economic and workforce development and quantitative analysis. She received her B.A. in Geography from the University of Washington.