on Mar 16, 2015
Redevelopment in an Era of Risk

HR&A President Eric Rothman Speaks at New Jersey Future's Annual Redevelopment Forum
The New Jersey Future's Annual Redevelopment Forum brings more than 500 leaders from both the public and private sectors to discuss how New Jersey can re-use infrastructure, take advantage of historically strategic locations, maintain and improve its communities and preserve its open spaces.
In March 2015, Eric Rothman participated on a panel titled "Redevelopment in an Era of Risk", which focused on maintaining a strong momentum of redevelopment while also planning for the damaging effects of climate change and other natural disasters. Eric highlighted HR&A's work for HUD's Rebuild By Design Competition in Hoboken, a UN Role Model City for Resilience that is in the process of rebuilding after Superstorm Sandy and planning for future flood risk.
HR&A found that an investment in a comprehensive urban water strategy in Hoboken, which includes a mix of infrastructure improvements; a network of porous, greenspaces throughout the city; and new zoning policy, would generate significant value for the City and its businesses, institutions, and residents by preserving current assets; reducing future defense and emergency services costs; enhancing amenities for the community; and sustaining long term growth. OMA's urban water plan Resist, Delay, Store, Discharge, which received funding from HUD, would incorporate innovative a mixture of funding strategies through public investment, value capture, and public-private partnerships with flood insurance providers to support project implementation in a virtuous cycle of development, value creation, and resiliency.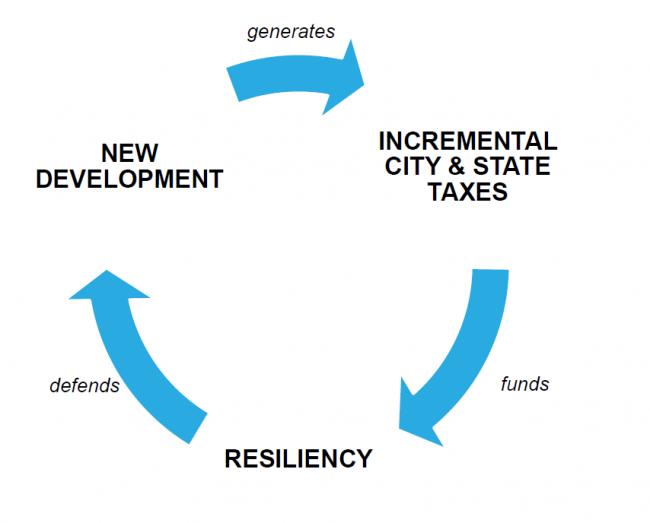 Learn more about this year's Forum here and view Eric's presentation here.