on Apr 16, 2015
"Public-Private Partnerships and Park Development" and "Planning Retail That Can Really Happen" at APA in Seattle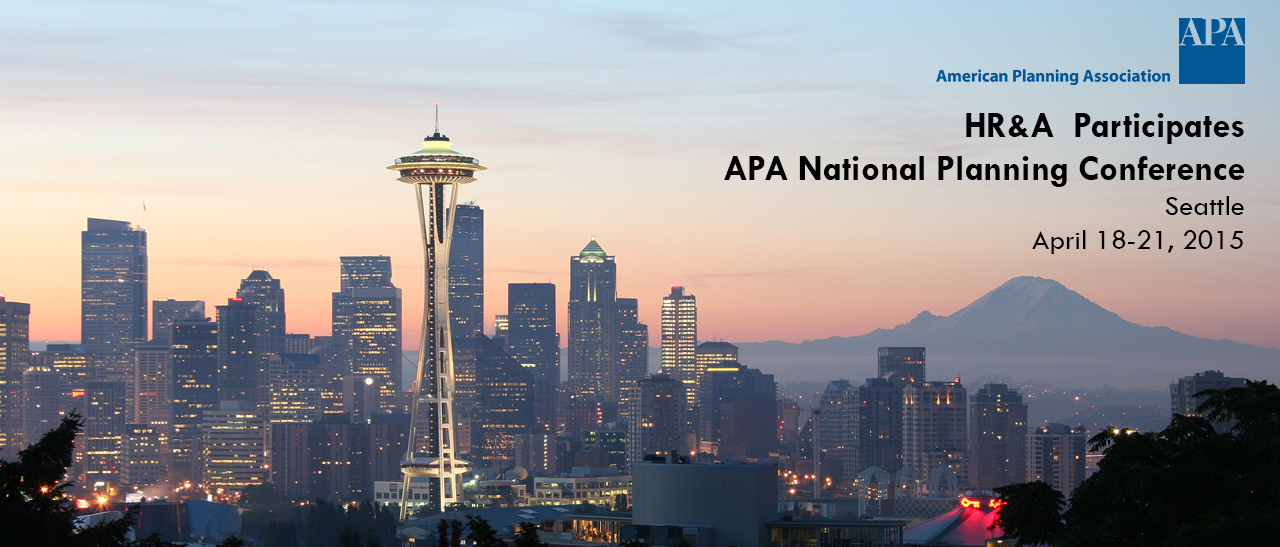 HR&A is proud to participate in the APA National Planning Conference in Seattle, Washington. The annual conference brings together planners, design professionals, and urban advocates from around the world to discuss the development of vital communities by advocating excellence in planning, promoting education and citizen empowerment, and providing the tools and support necessary to meet the challenges of growth and change.
HR&A Partner Paul Silvern will participate on a panel titled Public-Private Partnerships and Park Development on Tuesday April 21st. This session will cover the evolution of Public-Private Partnerships (P3's) from the 1980s through today; the decision making process and impact of P3s on park planning, design and development; the planner's role in P3 models; and the future of collaborative governance in park systems. P3s have emerged in the last few decades to support urban parks as public dollars have decreased. They are increasingly sophisticated – some taking on comprehensive management and operations in addition to fundraising – and bring much-needed financial resources. They reflect the complexity and challenges of urban park operations today that require new approaches to managing nature in densely populated areas, mitigating the effects of climate change, addressing diverse user needs, programming parks in communities at all socioeconomic levels, creating new sources of revenue, and working across sectors such as water, transportation, public health and human services departments. Paul will highlight our work on Brooklyn Bridge Park as an example of linking parks to adjacent development as a long-term funding strategy.
HR&A Partner Amitabh Barthakur will be participating on a panel titled Planning Retail that Can Really Happen on Sunday April 19th. Recognizing that retail space can activate and enliven the surrounding streetscape, planners often look to incorporate ground floor retail into their planning efforts. Oftentimes however, specific spaces are designated for retail uses without first taking into account market demand, area demographics, retail/restaurant operational requirements, project financial returns, conflicting ownership objectives and public sector incentives. This panel will shed light on what today's retailers and developers are looking for when it comes to parking requirements, store layouts, public sector incentives and other key criteria. It will also highlight the ways in which those requirements need to fit within often conflicting municipal regulations. The panel will feature store designers who have worked with a diverse array of clients, as well as developers and economic development professionals that have lead retail revitalization efforts. Amitabh will talk about how market and demographic data can be best interpreted in a manner that relates to retailer requirements, can manage stakeholder expectations, and can lead to a retail tenanting strategies that can actually be implemented.
We hope you can join us at APA in Seattle!