on Apr 19, 2023
Principal Greta Byrum Named Marjorie & Charles Benton Opportunity Fund Fellow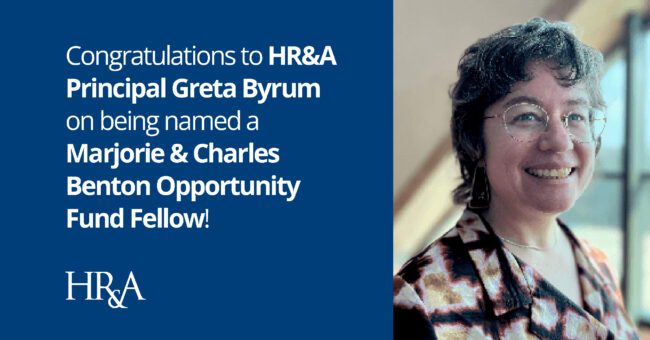 Congratulations to HR&A Advisors Principal Greta Byrum on her appointment as a member of the inaugural cohort of Marjorie & Charles Benton Opportunity Fund Fellows, announced this week by the Benton Institute for Broadband and Society. Greta, along with six other broadband practitioners, advocates, and researchers, is leading efforts to close the digital divide and ensure broadband is accessible and equitable for all communities.
"It's clear that access to the internet and digital services is critical for full participation in our society, democracy, and economy—yet as we expand access to computers and data-driven services, we must also ensure that new and marginal internet users are safe, supported, and
protected online," said Greta.
Learn more about the fellows and the communities they're impacting here.