on Jun 20, 2023
Nike Irvin Joins HR&A's Board of Directors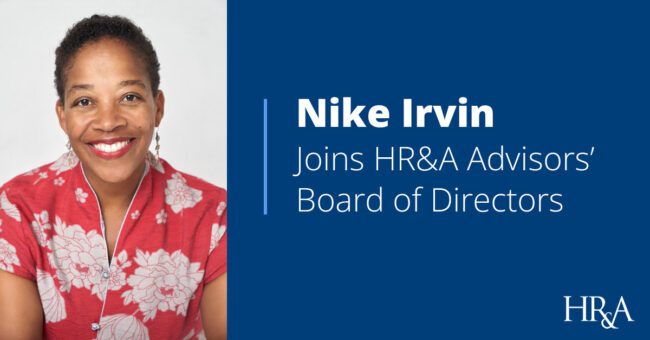 "As a believer in cities as the engines to our equitable and prosperous futures, I'm thrilled to join the Board of HR&A Advisors. HR&A is at an important inflection point, and I look forward to helping the company advance an even more brilliant future."   
HR&A Advisors is pleased to announce Nike Irvin's appointment to HR&A's Board of Directors.
More about Nike
A lifelong Angeleno with a deep love for her hometown, Nike is a highly regarded leader in policy, politics, and philanthropy in Los Angeles and across the country. A member of Mayor Karen Bass' transition team, she also serves on many local and national Boards. Nike's insights, accomplishments, credibility, and experience will be invaluable to helping shape HR&A's future as the company continues to grow and advance our mission and impact.
Nike leads the Civil Society Fellowship, which engages next-gen leaders to build civil discourse across ideological differences through text-based, moderated seminars in Aspen, Amsterdam, the Middle East, and the American South. A member of the Aspen Global Leadership Network (AGLN), this new Fellowship is a partnership of the Anti-Defamation League (ADL) and AGLN.
Nike previously led the California Community Foundation's (CCF) grantmaking for six years, overseeing grants to arts, education, juvenile justice, and health. Before this work with CCF, Nike served as president of the Riordan Foundation for seven years. She is active in American Truth and Reconciliation efforts with AGLN and in Los Angeles. Prior to her nonprofit career, she was a Brand Manager for Nestlé and Pepsi Cola. She is a trustee for The Durfee Foundation, the John Randolph Haynes & Dora Haynes Foundation, the Nonprofit Finance Fund, and the Broad Center at Yale School of Management.
Nike received a Bachelor of Art in Economics & Political Science from Yale and was named one of the "100 Most Inspirational Alumni" by UCLA Anderson School, where she earned her MBA. Nike is a Marshall Memorial Fellow and a member of the 2004 Class of Henry Crown Fellows within the AGLN at the Aspen Institute.
Looking to the future
Working with some of the most innovative clients and collaborators in the world, HR&A is focused on building solutions that address the complex, interconnected challenges facing urban communities. The unifying theme across this work is our passion for building more resilient, equitable cities for the people who live in them — a passion Nike shares.
This is a critical time for cities. Our clients are coming to us to help them leverage once-in-a-generation federal funding, integrate emerging technologies, and build tools to chart new paths forward. We look forward to Nike's leadership and contributions to further expand HR&A's critical work with clients and communities in over 180 cities, six countries, and three continents.