on May 19, 2022
Launching the Massachusetts Tideland Development Calculator: An Innovative Approach to Evaluating Public and Private Waterfront Benefits
This article is a companion to an article published by The Conservation Law Foundation, available HERE. This article is the first in a series of articles on the Massachusetts Tideland Calculator. See Part Two of the series HERE.
The Conservation Law Foundation and HR&A Advisors developed the Massachusetts Tideland Development Calculator, a unique education and advocacy tool that represents a new and innovative approach to evaluating the economic tradeoffs between public and private access to public land.
The Massachusetts Public Waterfront Act—also known as "Chapter 91" of Massachusetts General Laws—gives every state resident a legal right to access waterfront areas called tidelands. The Act sets specific requirements on land uses, building heights, and the siting of public open space in tidelands. The goal of these rules is to preserve public access to the waterfront.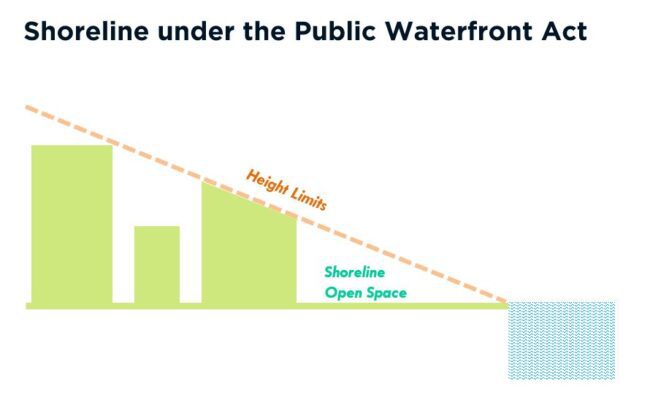 When public and private interests conflict, a need for new tools
In high-value real estate markets—such as Downtown Boston and Boston's Seaport neighborhood—Chapter 91 requirements and real estate development goals can come into conflict. Waterfront tideland parcels are tremendously valuable to the public, especially in contexts where development is already limiting views and available open space. At the same time, maximizing real estate development on these parcels can generate significant financial returns to private developers while achieving important economic development and housing goals in dense urban areas. Therefore, a developer or city may desire to build larger or taller, or to reduce public open space on a site in order to unlock greater financial returns for both the private and public sectors.
Public Value of the Waterfront
High-quality open space facing the water
Opportunities for waterfront urban connectivity (e.g., Boston's Harborwalk)
Access to water-dependent uses and amenities: water taxis, boating, fishing
Space for green infrastructure that combines public use and flood resilience
Private Value of the Waterfront
Significant opportunity for private profit and greater local property tax revenue
Significant value premium conferred by waterfront views and waterfront proximity
Development of commercial office space to advance economic development goals
Development of housing in urban areas with high demand for residential space
In the context of Chapter 91, if a project owner receives an exception to build bigger, higher, or otherwise reduce public access onsite, then the owner usually has to compensate the public for the public access it is taking away. This compensation is called a "mitigation payment." But there is no consistent or clear methodology or framework for negotiating such a payment. This lack of clarity can make waterfront development approvals and decision-making challenging and controversial.
To fill in this gap, the Conservation Law Foundation—an environmental advocacy organization based in New England—worked with HR&A Advisors to design the Massachusetts Tideland Development Calculator.
Benefits communities can unlock from waterfront development
The Tideland Development Calculator estimates the additional land value unlocked by a project that reduces public access to tidelands. The calculator suggests that this "land value premium" could—at least in part—be a source of financial compensation back to the public. This funding could support waterfront-related public benefits. Benefits could include: public access to the waterfront close to the site, enhanced public amenities (e.g. water taxi stations, community spaces, public programming), or investments that deliver waterfront open space integrated with coastal resilience infrastructure.
To assess the land value premium, the calculator creates two versions of the same project.
Proposed project. The calculator allows the user to define a tideland site and a potential project on that site. Given regional market assumptions, the calculator estimates the ballpark land value of this proposed project.
Compliant comparison project. The calculator compares the proposed project to a Ch91-compliant comparison project. The comparison project represents the legally achievable building scale onsite given Chapter 91 requirements. This project shares the same proportional mix of uses as the proposed.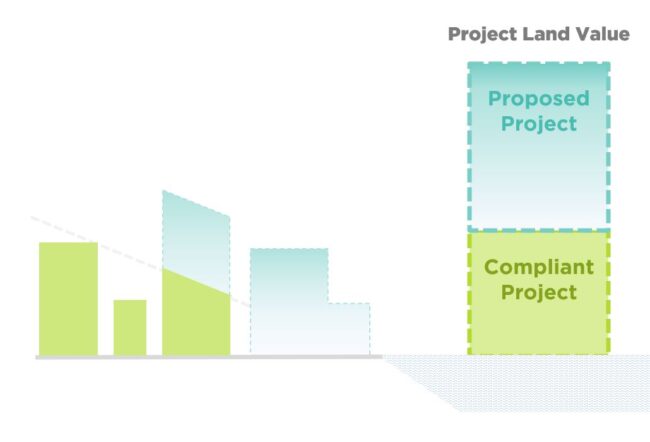 When the proposed project is larger and more valuable than the Ch91-complaint comparison project, this means that it exceeds Chapter 91 rules and unlocks greater land value as a result. This incremental value is the "land value premium": the total extra value generated by reducing public waterfront access.
By estimating the land value premium associated with relaxing Chapter 91 rules and limiting public access, the Calculator sets transparent bounds for negotiations about what amount of compensation is owed back to the public—to fund investments like enhanced open space nearby and other public amenities.
The Calculator can reveal vital information about the private value at stake in Chapter 91 decisions. This information, which is usually very difficult to estimate, can serve as input to a more holistic process of municipal harbor planning. In practice, this broader process of harbor planning must also continue to meaningfully engage the public to understand the quantifiable and non-quantifiable importance of waterfront access for all community members, balanced against the importance of real estate development.
This article is a companion to an article published by The Conservation Law Foundation, available HERE.