on Jun 18, 2015
Jamie Torres Springer Presents on Resiliency Innovations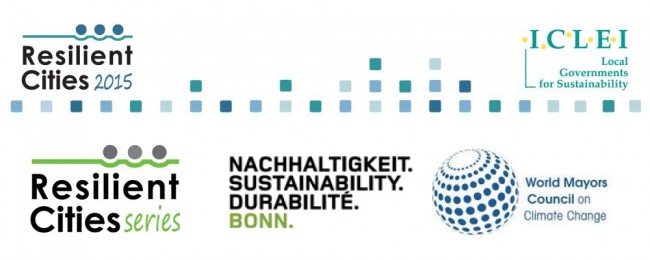 HR&A Senior Principal Jamie Torres Springer traveled to Bonn, Germany, to present on innovations in post-Sandy resiliency efforts at Resilient Cities 2015: The 6th Global Forum on Urban Resilience & Adaptation, June 8-10. The annual Resilient Cities Series, launched in 2010, is an effort by ICLEI – Local Governments for Sustainability (ICLEI, originally the "International Council for Local Environmental Initiatives"), the World Mayors Council on Climate Change (WMCCC), and the City of Bonn, Germany. ICLEI and WMCCC bring together world localities to advocate for global sustainability. Bonn, a member of ICLEI and WMCCC, is the only German member city of the United Nations and a hub for international diplomacy and thought leadership for sustainable development.
HR&A is proud to have been able to present the New York City resiliency story as one of only three "Cities in Focus," selected by the Congress to model local case studies for larger resiliency and climate change adaptation applications. Jamie's sessions provided key takeaways from resiliency initiatives by New York City, New York State, and the federal government following Superstorm Sandy in 2012.
Jamie participated in the Day 2 Opening Panel about "financing resilience," a major theme shaping the day and linking other "Finance Forum" sessions throughout the conference. During his segment, "Incentivizing innovation and improving financeability for flood protection in New York City," Jamie discussed the economic lens with which local government and partner organizations must consider resiliency efforts in order to transform the focus of policy and planning from recovery to future disaster preparedness. Joining Jamie on the panel were the World Bank's Urban Resilience Senior Advisor; ICLEI's Secretary General; delegates from Copenhagen, Denmark and Nacala-Porto, Mozambique; Cities Development Initiative for Asia; Global Infrastructure Basel Foundation; Agence Française de Développement; and Global Environment Facility.
Jamie also led a ninety-minute "Reality Check Workshop" session, "Planning for Resilience During Post-Disaster Recovery in New York City." The workshop format encouraged participants to examine City, State, and federal strategies as well as provide feedback as international experts in urban development and climate adaptation. Jamie facilitated a group of participants, observers, and members of the press.
HR&A is grateful to the Congress co-hosts and organizers for providing a meaningful opportunity for collaboration among global resiliency professionals.
ICLEI's reviews of the panel discussion and Jamie's remarks can be found within its CityTalk blog and News Center.
A video of Congress highlights features Jamie's panel beginning at 0:18.
Jamie's workshop materials will also become available on the conference website shortly to continue to inform practitioners.