on Jun 30, 2014
HR&A wins ARTBA Globe Award for work on NY Rising Community Reconstruction Program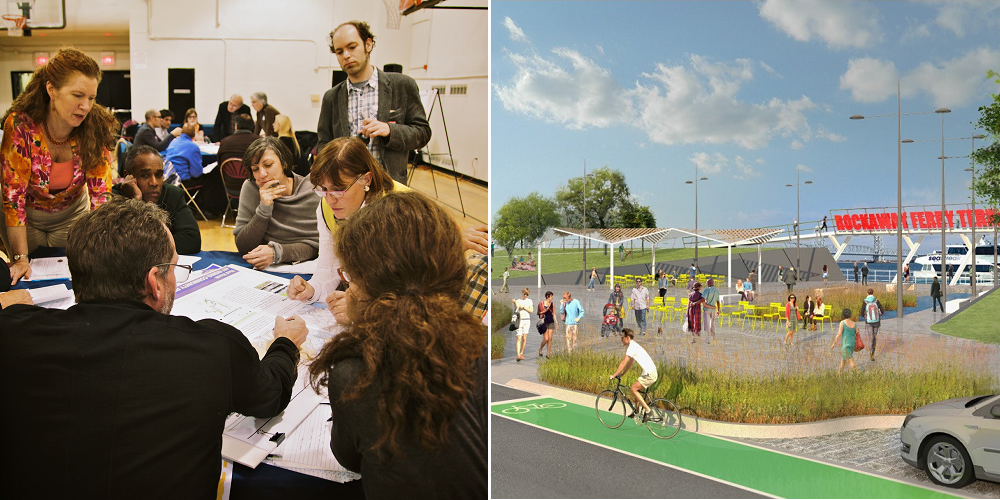 In May 2014, HR&A Advisors and Parsons Brinckerhoff were awarded the American Road and Transportation Builders (ARTBA) Transportation Development Foundation Globe Award for their work on the NY Rising Community Reconstruction (NYRCR) Program. Recognizing excellence in the protection and/or enhancement of the natural environment in transportation planning, design, and construction, the award was given in acknowledgement of the team's development of several innovative transportation initiatives to enhance community resiliency across New York City. The award was presented at a special luncheon on June 12th in Washington, DC.
HR&A's work on the NY Rising Community Reconstruction Program (NYRCR) has been part of its broader involvement in helping to plan for and implement a resilient future for the Sandy-impacted region and beyond since October 2012, which has included Jamie Torres Springer's participation in the NYC Mayor's Special Initiative for Rebuilding and Resiliency (SIRR), in the City's subsequent analysis of the feasibility of a multipurpose levee to protect much of Southern Manhattan, in the federal government's innovative Rebuild By Design competition, and in the Rockefeller Foundation's 100 Resilient Cities initiative.
The NYRCR is an initiative of the Governor's Office of Storm Recovery to provide revitalization assistance to New York communities most severely damaged by Superstorm Sandy, Hurricane Irene, and Tropical Storm Lee. Funded by the State's allocation of U.S. Department of Housing and Urban Development (HUD) Community Development Block Grant-Disaster Recovery (CDBG-DR) funding, the first phase of the NYRCR program provided resiliency project funding to 45 communities throughout the State. HR&A and Parsons Brinckerhoff worked with State-appointed Planning Committees in the New York City communities of Breezy Point, Broad Channel, Howard Beach, Lower Manhattan, Red Hook, Rockaway East, and Rockaway West to develop Community Reconstruction Plans. Submitted in March 2014, these Plans contained ideas from NYRCR Planning Committees and the public for 81 wide-ranging projects to be funded with a CDBG-DR allocation of $108 million to address physical, social, and economic resiliency.
Projects proposed by the NYRCR Planning Committees include community relief centers to provide emergency and year-round services, small business resiliency technical assistance programs, and financial assistance for stormwater mitigation measures. All of the communities also proposed far-ranging initiatives to enhance coastal protection.
Among the 81 proposed projects were eight recognized by ARTBA that specifically focused on increasing the resiliency of transportation systems and services. These included strategies to enhance the redundancy of the transportation system on the Rockaway Peninsula in the event of a storm, including expanded ferry service, a bus circulator service, and a comprehensive bike-share network. Other projects included a new ferry landing in Red Hook and the recommendation of a direct bus route from Red Hook to Lower Manhattan.
Now that these NYRCR plans have been submitted, the second round of the NYRCR planning process has begun. During this round, HR&A and Parsons Brinckherhoff will be supporting the Brooklyn communities of Canarsie, Bergen Beach, Georgetown, Marine Park, and Mill Basin, and several Bronx waterfront communities. These communities will spend the next seven months discussing resiliency challenges and developing strategies and project ideas to envision a more resilient future.
Read the first round NYRCR Plans on the Governor's Office of Storm Recovery website at the links below and watch a video about the program on YouTube.
Breezy Point Community Reconstruction Plan
Broad Channel Final Reconstruction Plan
Howard Beach Community Reconstruction Plan
Lower Manhattan Community Reconstruction Plan
Red Hook Community Reconstruction Plan
Rockaway East Final Reconstruction Plan
Rockaway West Final Reconstruction Plan