on Feb 22, 2016
HR&A President Eric Rothman Named Board Chair of the Design Trust for Public Space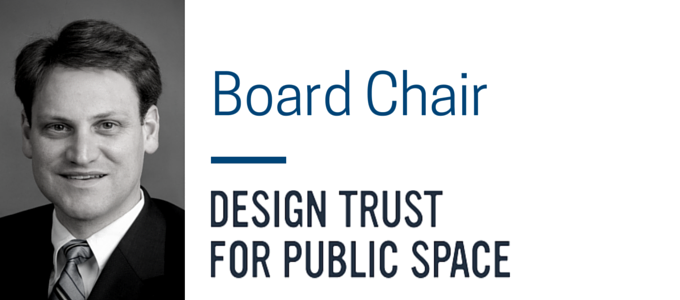 The Design Trust for Public Space is a nationally recognized non-profit catalyst that engages planners, government agencies, and community stakeholders on projects to improve New York City's landscape. These projects have ranged from incubating the High Line Park to re-imagining Times Square, as well as it's most recent Under the Elevated project, to make spaces underneath highway and transit infrastructure more inviting for New Yorkers.
"I'm proud to lead the Design Trust Board and to continue Andrea Woodner's legacy. Andrea and her creation of the Design Trust catalyzed new thinking about public space, dramatically transforming the lifeblood of our city—its public buildings, streets, plazas, parks and infrastructure. The Design Trust's work has raised people's expectations for a higher quality of life; changed how city agencies operate; and resulted in new laws and regulations for a lasting, positive impact for the lives of New Yorkers."
– Eric Rothman
Eric first joined the Design Trust in 2006 as an Economic Policy Fellow to evaluate the economics of the New York City taxi industry and make policy recommendations for Taxi 07: Roads Forward, a re-imagined taxi system for the twenty-first century. Eric continued working with the Design Trust as a member of a jury and an advisor for Made in Midtown and Making Midtown, the organization's enhanced vision for Manhattan's Garment District. Eric joined the Design Trust Board in 2013 and served as co-chair of the DT Council and on the Executive and Finance committees. He succeeds the Design Trust's co-founder and long-time board President Andrea Woodner. Andrea will continue to focus on fundraising for the Design Trust as Chair of the Founder's Circle, while launching her new Hercules Art/ Studio program, which provides affordable studio space and community for emerging artists in Lower Manhattan.
Read this press release from the Design Trust to learn more about Eric Rothman's appointment and the organization.