on Dec 30, 2013
HR&A Commends Landmark Public-Private Deal for MTA's Fulton Center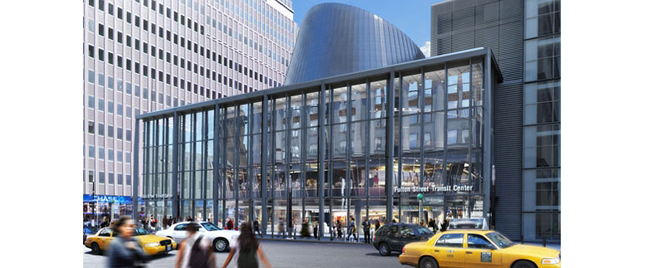 HR&A congratulates the Metropolitan Transportation Authority (MTA) for selecting the Westfield Group as master lessee of the $1.4 billion Fulton Center development in Lower Manhattan. The landmark agreement, approved December 18th by the MTA Board, leverages the expertise of one of the world's leading mall operators to manage a world-class public space, and is the result of nearly two years of planning and negotiation.
When completed in June 2014 the $1.4 billion, 180,000-square-foot Fulton Center will link 9 subway lines, PATH service, and the World Trade Center site, serving as a gateway for approximately 300,000 people daily. It will also contain 63,000 square feet of retail and office space within the newly built structure at Broadway and Fulton Street as well as the newly restored historic Corbin Building at Broadway and Dey Street.
Under the innovative public-private partnership, Westfield will be responsible for leasing, operating, and maintaining the entire facility, including 100,000 square feet of non-commercial space. Westfield and the MTA will share in the revenues generated by commercial spaces and digital advertising displays.
HR&A was pleased to serve as strategic business advisor to the MTA on the Fulton Center project, providing support for: the creation of a retail vision and deal structure; RFP development and release; evaluation of bidders; and final bidder selection and deal term negotiations.