on Mar 24, 2015
HR&A Study Sparks Regional Conversation on the Future of Long Island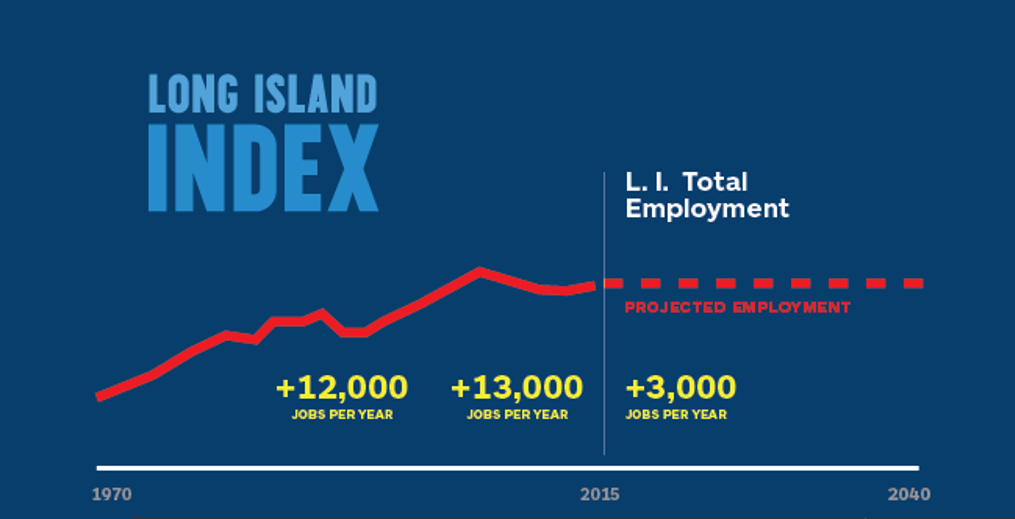 The Long Island Index, a project of the Rauch Foundation, recently released Long Island's Future: Economic Implications of Today's Choices, an HR&A study that highlights the impact of Long Island-wide initiatives that tackle the region's most pressing socioeconomic challenges. HR&A's study illuminates the effects of targeted policies that leverage Long Island's existing assets and re-orient the region towards sustainable prosperity.
Using complex economic modeling, HR&A found that socioeconomic trends including the loss of young workers and families, scarce employment options in high-paying fields, and high-cost housing, combine to dampen the region's future prospects. Without targeted intervention, stagnating economic conditions threaten to erode the quality of life on Long Island.
HR&A explored the impact of a coordinated strategy to foster the growth of the area's burgeoning biomedical cluster and increase multifamily housing production in downtown locations. HR&A's concluded that implementing this strategy would attract up to 138,000 new residents and create up to 73,000 new jobs by 2040. Through these synchronized efforts, Long Island could gain up to $15.1 billion in gross regional product (GRP) and $600 million in new tax revenues in 2040.
While these results are impressive, they won't come easy. The key to aligning Long Island's future lies in the uncompromised link between the two policy recommendations: creating jobs through a biomedical cluster and expanding housing opportunities. These strategies must be implemented simultaneously, and in coordination with the enlargement of regional transit capacity, set forth in the firm's 2014 study of the Long Island Rail Road Main Line Third Track. United forces to enhance regional connectivity, foster cross-sector collaboration, and create high density downtown living opportunities hold promise to revitalize Long Island's economy. Developing multifamily housing in the region's downtowns would create new space to support a growing biomedical workforce while preserving existing neighborhoods and open spaces. Cluster-based economic development strategies can catalyze the growth of Long Island's burgeoning biomedical industry, provided adequate conditions to attract and retain a talented workforce.
The findings presented in Long Island's Future continue to ignite and inform regional conversation about the actions Long Island should take today to enhance its future prosperity. Regional groups, including Accelerate Long Island and the Long Island Association, have pledged to incubate and support emerging biomedical firms as they seek opportunities for collaboration and funding on Long Island. Across Nassau and Suffolk counties, local politicians and lawmakers are rethinking municipal zoning policies that discourage multifamily residential development in downtowns. Within the last year, zoning boards in Long Beach and Babylon have approved proposals to construct dense, multifamily housing. Communities including Westbury, Patchogue, Ronkonkoma, and Rockville Center continue to explore integrating new land uses to benefit local downtowns as a part of the Long Island Index's Build a Better Burb: ParkingPLUS Design Challenge.
Several national and regional media outlets, including the Altantic's CityLab, Planetizen, Newsday, the Long Island Press, the Long Island Business News, and the Long Island Herald, have reported on the findings of Long Island's Future. To read the full report, follow HR&A Partner, Shuprotim Bhaumik's editorial published in the Long Island Business News, and join the discussion about Long Island's trajectory, please visit http://www.longislandindex.org/.