on May 24, 2016
Creating a vision for a Freeway Cap Park in Glendale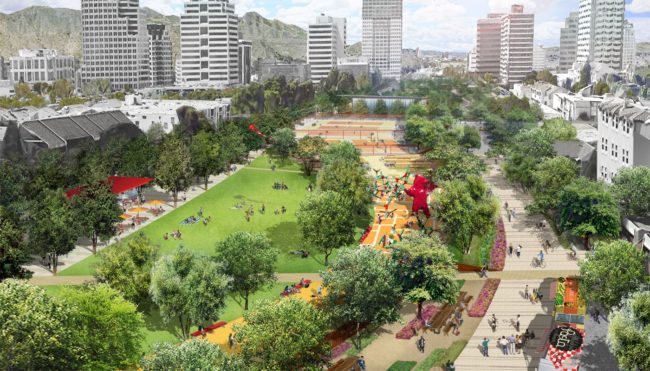 Cities across the greater Los Angeles region, have recently taken steps to reweave the urban fabric where sunken freeways slice through urban neighborhoods. HR&A in partnership with Melendrez, Nelson Nygaard and Cummings, is supporting the City of Glendale's feasibility study to build a "cap" park over the Ventura Freeway, which cuts through Downtown Glendale.
Space 134, the proposed park, envisions as much as 30 acres of new open space in the heart of downtown Glendale. Building on our experience working on similar projects, including Boston's Rose Kennedy Greenway and Phoenix's Hance Park, HR&A is providing strategic guidance on capital, operational and governance as the team develops a conceptual design.
HR&A studied the capital and operational cost implications of a series of conceptual designs, as well as relevant funding options. To finance construction, HR&A explored the capacity of an Enhanced Infrastructure Financing District ("EIFD"), a new tax increment financing tool in California. HR&A also evaluated potential earned income and ongoing management strategies  based on national best practices.
To communicate the Space 134 Vision and build consensus among residents and businesses in Glendale, HR&A identified a series of economic and social benefits associated with the park's development. These have supported the project team's outreach through a series of pop-up workshops around the City.  The project has been well-received by Glendale residents, members of the business community and has gained support from local and State lawmakers. Looking toward next steps for the Space 134 project, HR&A is assisting the team to prepare a concise concept plan– including a phased implementation framework and potential project benefits — to support fundraising and to continue to build support amongst a wider constituency.