on Mar 14, 2017
How Should Cities Prepare for a Driverless Future?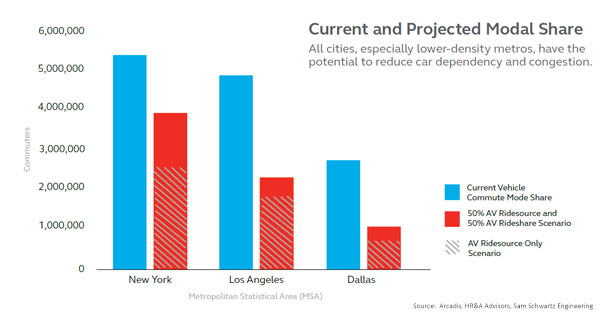 HR&A, in partnership with transportation and engineering leaders Arcadis and Sam Schwartz, released Driverless Future:  A Policy Roadmap for City Leaders, a white paper examining the disruptive nature of autonomous vehicle (AV) technology and potential policy solutions for city leaders.
To help cities navigate the complex challenges and opportunities presented by the rise of AVs, Driverless Future provides six policy priorities for cities:
LEVERAGE TECHNOLOGY TO ENHANCE MOBILITY
Cities and their public and private transportation providers should embrace smartcards, open data, and universal apps to allow riders to compare, book, and pay for multi-modal trips.
PRIORITIZE AND MODERNIZE PUBLIC TRANSIT
Transit agencies should prioritize investments in high-ridership, high-frequency light rail and bus rapid transit corridors while leveraging driverless shuttles to provide first- and last-mile connections for riders.
Cities can reduce congestion and create a level playng field between public and private transportation through dynamic road pricing plans that vary by origin and destination, number of passengers, congestion, household income, etc.
PLAN FOR MIXED-USE, CAR-LIGHT NEIGHBORHOODS
Cities can shape demand, by planning for and incentivizing mixed-use development, overhauling parking requirements, and providing alternatives to driving.
ENCOURAGE ADAPTABLE PARKING
Parking garages should be built with redevelopment in mind. Adaptable garages are already being contemplated in Boston, Seattle, Nashville, and other cities.
PROMOTE EQUITABLE ACCESS TO NEW JOBS AND SERVICES
To ensure that disadvantaged populations will benefit from AVs, public and private operators must partner to provide alternative payment methods, equitable service coverage, and new employment and training opportunities for drivers and others in legacy occupations.
Similar to other technological revolutions like the railroad, streetcar, and automobile, public policy will play a decisive role in shaping autonomous technology and its impact on cities. We hope this paper will start a discussion and help cities prepare for this generational opportunity. Driverless Future and additional materials exploring the effect of autonomous vehicles on cities are available at DriverlessFuture.org.