on Nov 08, 2018
Carl Weisbrod Receives the Public Space Leadership Award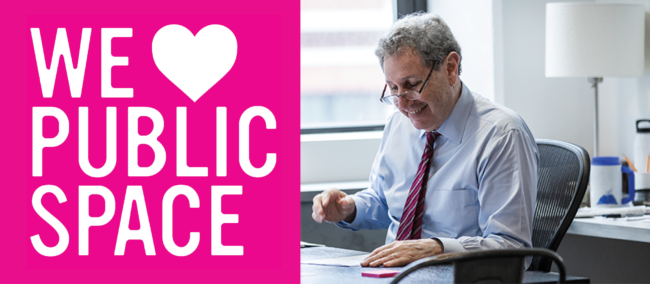 The Design Trust for Public Space honored Carl Weisbrod with the 2018 Public Space Leadership Award for his outstanding leadership in New York City. The Design Trust for Public Space is a nonprofit organization dedicated to the future of public space in New York City. Their projects bring together city agencies, community groups and private sector experts to make a lasting impact—through design—on how New Yorkers live, work and play.

Carl has had an extraordinary impact on New York City's public realm throughout his outstanding four-decade career dedicated to public service. As founding president of New York City's Economic Development Corporation, he led public and private partnerships that transformed some of the City's most dynamic and fastest-growing neighborhoods. Mayor Bloomberg appointed Mr. Weisbrod as the director of the Lower Manhattan Development Corporation following the devastation of Lower Manhattan after the 9/11 attacks, where he was instrumental in the dramatic recovery of the area and leading efforts to heal the city.

As a member of the de Blasio Administration, he served as both chairman of the New York City Planning Commission and also director of the NYC Department of City Planning. Mr. Weisbrod was charged with creating land-use policies to promote an equitable, resilient, sustainable and economically vibrant city; his tenure has overseen the enactment of Zoning for Quality and Affordability, which led to the Midtown East rezoning project, including vast improvements to public space near Grand Central.

Congratulations Carl!