Chief Finance and Operating Officer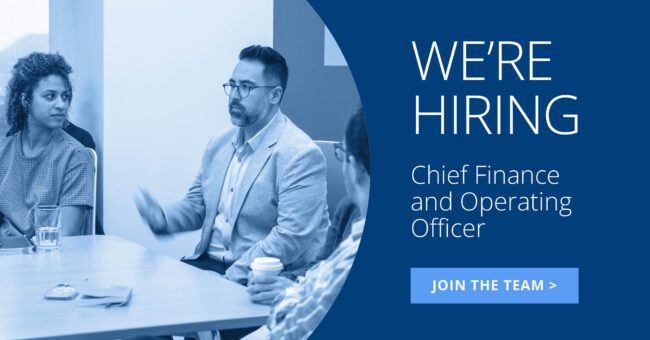 ABOUT THE ORGANIZATION
HR&A Advisors, Inc. (HR&A) is an employee-owned company advising public, private, non-profit, and philanthropic clients on how to increase opportunity and advance quality of life in cities. For almost 50 years, we have been turning vision into action.
Our clients include real estate owners and investors, governments, hospitals and universities, cultural institutions and philanthropies, and community development organizations.
HR&A is structured into Studios, which are diverse teams of Partners, Senior Advisors, consulting employees, and administrative employees who work across a variety of projects together. Each of these communities supports project staffing, mentorship, and business planning, and creates clear accountability for the quality of an employee's experience.
HR&A has offices in Atlanta, Dallas, Los Angeles, New York, Raleigh, and Washington D.C. Our New York office serves as our headquarters. We come from diverse backgrounds, have a breadth of lived experience, and share a passion for cities. We are former city officials, executive directors, planners, lawyers, architects, and economists.
HR&A Mission
HR&A's mission is to ensure implementation of our clients' aspirations: to create vital places, build more equitable and resilient communities, and improve people's lives. We accomplish our mission by deploying the extraordinary analytic and creative talent of our employee-owners, who come from a diversity of backgrounds, have a breadth of lived experience, and share a passion for cities. We are motivated by complex challenges, dedicated to our clients, and fulfilled by making lasting impact.
Value to Our Clients
We provide clients with strategic guidance, economic analysis, and implementation planning to attract private and public investment, grow economies, and make communities more just, resilient, equitable, and joyous. We achieve results. We do so by helping build collaborations among public, private, non-profit, and civic actors; working at the intersection of economics, policy, and design; harnessing market forces to achieve civic objectives; and establishing financial and organizational feasibility.
Analytic rigor, creative energy, and focus on impact fuel all our efforts. We help our clients define their goals and solve their problems by drawing on our almost half a century's history of success working across a broad range of projects, client types, places, and issues.
We believe that growth – of economic resources, educational opportunity, technological advancement, and public dialogue – is essential to our clients' success. Growth enables market capacity to create opportunities and government capacity to deliver services, which are prerequisites for more equitable outcomes.
What Drives Us and Defines Us
We are committed to helping our clients and ourselves to do better. We not only help clients identify solutions but also to ask better questions, enabling them to make transformational impact. We set them on a path to creating better job opportunities, building stronger communities, attracting more investment, achieving more equitable outcomes across race, class, and gender, and realizing a more sustainable and resilient future.
Our breadth of practice fuels our curiosity and ingenuity, makes us better practitioners, and strengthens our engagement with the complexities that are central to much of our work. We serve clients in the public, private and non-profit sectors, across a broad and expanding range of issues. Our clients' goals are diverse and sometimes contradictory. For almost 50 years we have excelled at navigating the complexities of serving this diversity of interests and perspectives, which has increased our ability to advance our clients' objectives.
We are committed to developing and rewarding our people. We are employee-owned. This fact alone requires us to demand excellence of ourselves. Every employee who works on a project is invested in its success. In return for this commitment to excellence, we provide the opportunity to build wealth based on employee performance and the firm's long-term success.
Our commitment to anti-racism, diversity, equity, and inclusion (ADEI) is essential to who we choose to be. We continuously reflect on our role and that of our field in perpetuating inequities, refine our understanding of these conditions, and address their impact on our workplace and our work.
ABOUT THE POSITION
As a key member of HR&A's leadership team, the Chief Finance and Operation Officer (CFOO) will play a critical role in the overall strategic management of the organization, setting and driving financial and operational goals for HR&A's $50M+ — and growing — business. Working with the CEO, the CFOO will lead strategic analyses as HR&A continues to scale and deepen its impact, with the goal of creating an organization that will increase profitability and remain financially sustainable into its next generation of leadership.
This individual will also serve as a thought partner to organizational leaders on ongoing finance and operational strategy while continuing to build and coach the finance and operations technology teams.
Reporting to the CEO, the Chief Financial and Operating Officer will manage over ten finance and operations professionals and build the team for future growth.
Responsibilities include but are not limited to:
Executive Leadership
Serve on HR&A's executive leadership team, collaborating with other executive leaders to help drive the organization's vision, strategy, and cultural development
Partner with leadership, staff, and consulting teams, to foster a collaborative, communicative work culture, centered in HR&A's commitment to ADEI
Build systems and processes that will enable the studio, people, growth, finance, and operations teams to work together collaboratively and effectively
Communicate effectively with HR&A's Finance Committee and Board of Directors, ensuring all Board members clearly understand the organization's financial health and sustainability
Team Management
Lead, manage, and develop a high-performing and diverse team working across key infrastructure areas, including strategic finance, accounting, knowledge management, IT systems, and facilities
Mentor and lead the finance and operations team, with an eye towards both developing the team as professionals and holding them accountable for meeting goals
Create a customer-oriented team culture, focused on providing timely and accurate information, along with robust finance and operations support
Serve as an exemplar for inclusive and equitable team management, modeling HR&A's ADEI values in managerial practices
Financial Leadership
In partnership with the CEO and leadership team, develop financial strategy for HR&A setting short- and long-term financial goals through sophisticated financial forecasting and scenario planning, informed by accurate and real-time financial information
Drive firm's overall profitability, leading strategic pricing, revenue, cash flow, and expense strategies that lead to continued growth and sustainability
Continue to optimize financial and analytics platforms (Including Sage Intact, Salesforce, and Concur, among others) to provide robust information to organizational leaders, enabling enterprise-wide real-time reporting and decision-making
Embed a commitment to HR&A's ADEI objectives by centering those objectives in the organization's approach to financial management (i.e.:with respect to vendor management and resource allocation)
Working closely with the finance team, oversee the annual budgeting process; monitor progress and changes
Working closely with the accounting team, oversee both internal and external reporting, including ensuring compliance with GAAP and all applicable local, state, and federal laws
Effectively communicate and present critical financial matters to all relevant key stakeholders on an ongoing basis
Systems and Information Technology
Create a thoughtful technology strategy that drives growth and enables the executive team and senior staff (partners and project managers) to have ongoing access to data
Lead the oversight of HR&A's knowledge management infrastructure, enabling real-time, robust access to best-in-class current resources and tools, creating guidelines and oversight for the studio teams
Ensure HR&A is working with the most up-to-date tools and resources available, and is readily able to leverage technological systems and solutions to meet goals
Lead planning to ensure connectivity, internal communications, and knowledge management; keep abreast of appropriate ways to enhance HR&A's technology infrastructure as it grows
Oversee HR&A's infrastructure, and manage internal staff, to ensure HR&A has the technology to work both efficiently and effectively
Compliance and Risk Management
Oversee staff to ensure HR&A maintains strong systems and processes that enable full compliance and reporting with all federal, state, and local legal and regulatory requirements
Oversee staff managing federal and state contracts to ensure contracts are secured, allocated, budgeted, tracked, and in compliance
Lead organization-wide management of legal affairs, insurance, and other risk management strategies
Facilities
Manage staff to ensure robust and effective support on facilities for staff across all regions
Oversee staff in office space planning and lease negotiations, as appropriate
Oversee vendor management, space planning, relocations, and disaster planning during relevant planning periods
CANDIDATE REQUIREMENTS:
The ideal candidate will possess the following qualifications:
At least 15+ years of professional experience, with 5+ years leading the finance function for a complex organization and experience overseeing and streamlining systems to enable growth, in a large professional services context strongly preferred
Demonstrated commitment to racial equity and inclusion, with the ability to serve as an exemplar for HR&A's Anti-Racism, Diversity, Equity, and Inclusion values
Extensive experience overseeing financial operations, including budget development, financial forecasting, and complex accounting
Demonstrated ability to build collaborative relationships working with staff at all levels, especially senior executives
Track record of translating big picture strategy into workable systems for day-to-day operations
Demonstrated success improving financial and operational policies, processes, and procedures
Track record of building, leading, and coaching effective, diverse high-performing teams
Commitment to inclusive leadership and to stewarding a culture with strong anti-racist, diversity, equity and inclusion practices; skilled at managing/working across lines of difference
Collaborative approach to executive leadership, and the ability to work effectively with cross-functional teams to meet goals and improve organizational performance
COMPENSATION AND BENEFITS:
The base salary range for this position is $250,000-$300,000. Where an offer falls inside the pay range is dependent on experience. HR&A offers competitive compensation packages, based on qualifications and experience.
HR&A is an employee-owned company, meaning you will have the opportunity to benefit from the firm's growth over time through participation in an Employee Stock Ownership Plan. Each year, the firm will contribute funds to this long-term wealth-building account and may make contributions to other retirement accounts. HR&A also provides a comprehensive benefits package that goes well beyond coverage of 90-95% of healthcare premiums, dental and vision coverage. For more information about HR&A benefits, please visit: www.hraadvisors.com/careers.
HOW TO APPLY
HR&A is working with On-Ramps to support the search for our next Chief People and Culture Officer. To apply for this role, please submit your application via On-Ramp's application portal.
Additional Applicant Information
HR&A is committed to attracting and retaining a talented, diverse, competitive team of professionals dedicated to solving the challenges of urban life. Women, people of color, members of the LGBTQ community, individuals with disabilities, and veterans are strongly encouraged to apply.
Like HR&A, On-Ramps is deeply committed to equity. We believe social change happens when people with a wide range of backgrounds, experiences, and identities come together with common purpose.On-Ramps is committed to the inclusion of all qualified individuals in the hiring process, including but not limited to those with disabilities. If you require reasonable accommodation(s) to participate in the application or interview process, please contact info@on-ramps.com.
Additional Applicant Information
HR&A is committed to attracting and retaining a talented, diverse, competitive team of professionals dedicated to solving the challenges of urban life. Women, people of color, members of the LGBTQ community, individuals with disabilities, and veterans are strongly encouraged to apply.
We ask that you submit a version of your resume that has your school information removed. There is no need to reformat your resume, and you should leave your degree (e.g., "B.A. Communications"). But please remove all undergraduate and graduate school name references. This request is part of our ongoing work to build a hiring system that is free from bias and based on candidate merit and performance in the hiring process.
All qualified candidates will receive consideration for employment without regard to their race, religion, ancestry, national origin, sex, sexual orientation, gender identity or expression, age, disability, marital status, medical condition, veteran status, or any other basis as protected by federal, state, or local law.