on Nov 03, 2011
Austin City Council gives preliminary approval to Downtown Austin Plan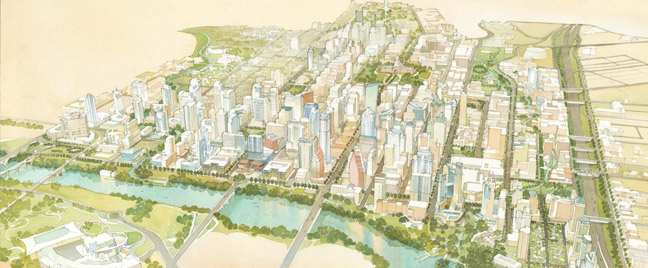 On November 3rd, Austin City Council gave preliminary approval to the Downtown Austin Plan. HR&A was pleased to support McCann-Adams Studio in creating the Plan, which supports the City's efforts to attract and retain workers and residents to the neighborhood and strengthen Downtown's brand.
HR&A played numerous roles in the development of the Plan.
HR&A developed the policy rationale for a permanent density bonus, which will tie higher density Downtown for housing development to affordable housing and other public benefits. The policy is currently under review by City Council as a replacement for a temporary density bonus created during the planning stages.
HR&A developed a strategy to increase Austin's supply of affordable housing, recommending that workforce housing be concentrated Downtown. Our recommendations were grounded in a rigorous assessment of Austin's current policies, workforce needs, and the state of its residential market.
HR&A developed a comprehensive strategy for transforming Austin's Downtown parks system. The strategy focuses on maximizing public revenues through concessions, events, and fees, and leveraging supplemental funding and management resources through collaboration with public, private and non-profit entities.
Most recently, HR&A developed an implementation strategy for the Plan, including recommendation of a Development Corporation model to undertake a range of strategic actions Downtown.