on Jun 09, 2023
Welcoming the 2023 Class of HR&A Summer Fellows!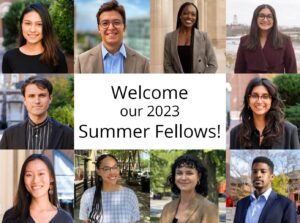 Welcoming the
2023
Class of
HR&A
Summer Fellows
The Summer Analyst Fellowship is a 10-week program offering the opportunity to engage in projects and skills aligned with core analytical staff at HR&A.  Fellows have the opportunity to work as integrated members of our project teams and build their skills in market analysis, case study research, econometric modeling, spatial analysis, preparation of real estate pro formas for a range of uses, and public-private structures, and public policy analysis.    
Fellows can work from any of our six offices in New York, Atlanta, Dallas, Los Angeles, Raleigh, or Washington, DC, and they may help prepare written reports, presentations, and Excel models for clients, as well as firm marketing materials and proposals for new projects. Each Fellow is assigned an Advisor to help set goals and make the most of the experience, and many members of HR&A's team started as Analyst Fellows. 
Meet HR&A's 2023 Summer Fellows!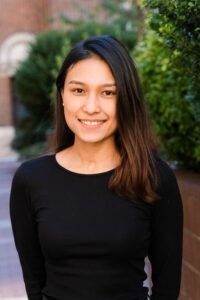 Alyana Acacio, Summer Fellow  
Alyana supports public-private partnerships to identify infrastructural gaps and implement strategies that build equitable and inclusive cities. 
 
Prior to joining HR&A, Alyana worked on a range of urban intervention projects in Manila. From designing a network of emergency quarantine facilities to managing the Horizon masterplan project, her work focuses on developing strategic frameworks for project design and implementation to serve underrepresented communities. She also brings with her experiences in architecture and education during her time in the Bay Area and Oslo. 
 
Alyana is currently pursuing her Master's in Urban Planning at Columbia University. She holds an MPhil in Comparative and International Education from the University of Oslo and a Bachelor's in Architecture from the University of California, Berkeley where she minored in Sustainable Design in Developing Countries and received funding to conduct research on homelessness in Barcelona.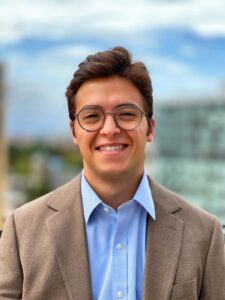 Andrew DeFrank, Summer Fellow
Andrew engages in projects and skills aligned to the core analytical staff at HR&A as a Summer Analyst Fellow in the Washington, DC office.
Andrew is a Master of Urban Planning student at New York University's (NYU) Wagner School of Public Service. Previously, he was a transportation planner and community engagement specialist at the District Department of Transportation (DDOT) in Washington, DC. As a transportation planner, he was a deputy project manager on the bus priority team. As a community engagement specialist, he worked closely with the DC mayor's office, the DC Council, and advisory neighborhood commissioners. Andrew is a writer for 730DC, a daily newsletter focused on local news and culture, and the Wagner Planner, an NYU independent student journal. He also writes as a guest contributor for Greater Greater Washington.
Andrew has a Bachelor of Arts in Political Science with Honors from Colgate University.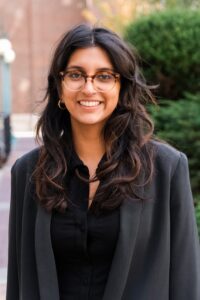 Aroosa Ajani, Summer Fellow
Aroosa aims to leverage her experience in the public and private sectors to address complex issues surrounding the development of the built environment and economic equity.
Aroosa is joining the New York office as a Summer Analyst Fellow. With a multidisciplinary background in civic engagement, urban planning, and corporate project management, Aroosa aims to take on projects related to her current focus areas of economic development, real estate development, built environment advising, and urban strategy. Prior to joining HR&A, Aroosa spent 4+ years at Dell Technologies in various roles including Forecast Analysis, Procurement Strategy, Supplier Diversity Programming, and Operational Risk and Resilience Strategy. Aroosa has also worked on special projects with the San Antonio Housing Authority and the City of Houston Department of Housing and Community Development. Outside of work, Aroosa developed a curriculum for and managed an annual multi-day workshop for college students in her community to learn about civic engagement and social justice topics.  
 Aroosa holds a Bachelor of Science from Trinity University in Business Analytics and Technologies, and Urban Studies. She is currently pursuing a  Masters of Science in Urban Planning from Columbia University.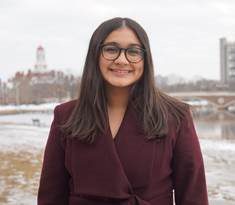 Elena Castellanos, Summer Fellow
Elena Castellanos is committed to supporting cities in building resilient, inclusive, and just communities.
As a 2021-2022 Henry Luce Scholar, placed at the University of Seoul's Community and Urban Design Lab, Elena studied Seoul's Seongdong-gu District's government-led anti-gentrification policies' impact on Seongsu-dong's commercial displacement and development. More recently, her research at Harvard's Asia Center focuses on how recovery and reconstruction efforts post the 2004 Indian Ocean Tsunami and 2011 Tōhoku Earthquake and Tsunami center urban resilience planning.  
 Elena's research at the intersections of space and equity has also led her to study the impacts of the 2008 recession on rural community development in Ottumwa, Iowa, and the uses of urban design as a tool for social exclusion during apartheid in Cape Town, South Africa. As a Mellon Mays Undergraduate Research fellow, she studied how feminist epistemology can serve as a tool for evaluating unjust spatial arrangements and aid urban planners in justifying participatory planning methods. 
Elena is currently a Master of Urban Planning candidate at the Harvard Graduate School of Design. She also graduated from Claremont McKenna College in 2021, majoring in Philosophy, Politics, and Economics (PPE) and Public Policy.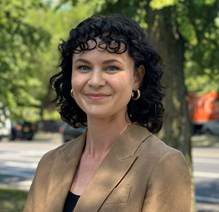 Eva Phillips, Summer Fellow
Eva is passionate about helping communities leverage data to understand local needs and design solutions that create socially just and economically resilient cities.
Prior to joining HR&A, Eva was the Senior Data Analyst of Research & Evaluation at Enterprise Community Partners. In this role, she supported the design and evaluation of housing and community development strategies across the country, providing technical assistance and data expertise. Her projects included the evaluation of an emergency rental assistance program for undocumented New Yorkers and the implementation of a neighborhood revitalization effort in historically disinvested communities. Before moving to New York, Eva helped design and launch the City of Oakland's Scooter Share Program with a focus on improving transportation access in low-income neighborhoods. She was also a researcher at the UC Berkeley Urban Displacement Project where she studied gentrification, displacement, and California's housing affordability crisis, developing evidence to support local policymakers.  
Currently, Eva is pursuing a Master's of Urban Planning at NYU Wagner where she is a Bloomberg Public Service Fellow and a Researcher at the NYU Furman Center. Eva holds a B.A. in Urban Data Analytics and a minor in Geographic Information Systems from the University of California, Berkeley.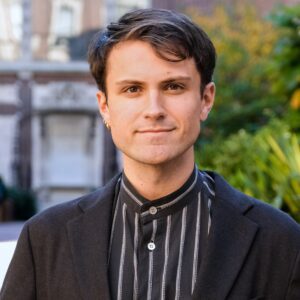 Felipe Urrutia, Summer Fellow
Felipe bridges analytical research with humanistic thought to advance equitable development practices.
Before joining HR&A as a Summer Analyst Fellow, Felipe co-founded the Open Source Homelessness Initiative. This project leveraged the power of open source technology to deliver an information-centralizing tool for architects and developers building affordable and supportive housing in Los Angeles. More recently, Felipe has been named an editor of URBAN, a publication at Columbia University that features written and graphic work about the built environment. 
Felipe is currently a master's degree candidate in urban planning at Columbia University. His coursework and research focuses on community economic development practices at both domestic and international scales. Before studying urban planning, Felipe pursued graduate coursework in philosophy, focusing on population ethics, metaethics, and moral philosophy. 
Felipe graduated summa cum laude from the University of Chicago with degrees in Philosophy and Fundamentals: Issues & Texts. He also graduated from the University of Chicago with a master's in philosophy, awarded with highest distinction. Felipe is currently pursuing an MS in urban planning from Columbia University.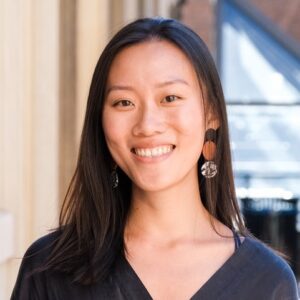 Gertie Ma, Summer Fellow
Gertie brings experience in interdisciplinary analysis and research to support inclusive economic development and public-private partnerships.
Before joining HR&A, Gertie worked at Sembcorp Development, a Singaporean land and real estate developer specializing in integrated developments in Asia. Her experience in the firm was wide-ranging, including supporting business-wide strategy reviews, pursuing new business ventures, and conducting feasibility and impact analysis. Through working on several large-scale urban projects, she possesses a strong understanding on the merits and challenges in navigating public-private partnerships. 
Gertie holds a Bachelor of Arts with Honors from Yale-NUS College where she majored in Urban Studies. She is currently pursuing her Master of Science in Urban Planning at Columbia University with a concentration in Community and Economic Development.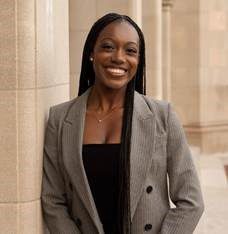 Jewel Evans, Summer Fellow
Jewel Evans is an experienced ethnographic researcher of the built environment and public health. She aims to create equitable land use strategy and policy that encourages intentional placemaking for disenfranchised populations. Jewel will join HR&A's Los Angeles office advancing projects to create equitable communities as a Summer Analyst Fellow for 2023.
As a research assistant on projects through Washington University in St. Louis's Brown School of Social Work and The New School, Jewel has collected and analyzed narrative-based data on individual experiences with vacancy, disinvestment, and land misuse as well as analyzed accessibility of community-based healthcare networks for reproductive care. 
Jewel has a Bachelor of Arts in Anthropology with a focus in Global Health and Environment from Washington University in St. Louis. She is currently pursuing her Masters of Public Health at The Brown School of Social Work specializing in Urban Design. She is a member of the American Anthropological Association.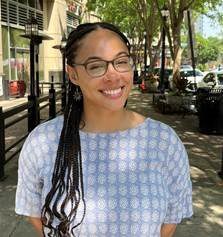 Sierra Scott, Summer Fellow
Sierra is a Summer Analyst Fellow, supporting the office in Atlanta, GA.
Her interests lie in the interdependence between institutions, and the resulting impact on environmental sustainability, equity, and economic development.
While working for the Southern Economic Advancement Project (SEAP), she conducted research to identify infrastructural gaps between environmentally sustainable policy and application. Focusing on air quality, energy, watersheds, and waste management, she created a database tracking sustainable legislation in these sectors. Additionally, she was tasked with analyzing municipal climate change initiatives in the Southeastern U.S. and identifying applicable funding sources provided by the Bipartisan Infrastructure Law. After reading over 300 city plans, she co-produced a report that was subsequently published, identifying almost 150 plans from 38 cities across 12 Southeastern states, and created an appendix identifying 71 funding sources.  
In her urban design studio, she was on a team that partnered with the Georgia Conservancy and the Habersham County Government in order to create a growth management plan. For this project she created a Transfer of Development Rights (TDR) program for the county and redesigned the county's zoning map in order to encourage development along industrial corridors.  
Sierra has a Bachelor of Science in Music Management and an Urban Studies Minor from the Georgia State University, and a Master of City and Regional Planning from the Georgia Institute of Technology.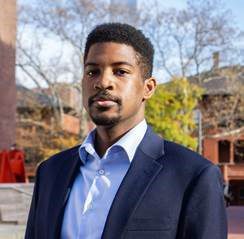 Trevian Ambroise, Summer Fellow
As a summer analyst fellow, Trevian provides research and analytical support.
Trevian is a graduate student studying City & Regional Planning at the University of Pennsylvania's Weitzman School of Design. He is concentrating on Public & Private Development and earning a certification in Urban Redevelopment. In addition, Trevian is interested in the intersection of equity planning & economic development practices to envision more just futures. Before attending Penn, Trevian had experience working as an undergraduate researcher studying historic community development practices at the Center for Louisiana Studies and was an intern for the National Trust for Historic Preservation. 
 Trevian has a B.A. in history from the University of Louisiana at Lafayette and will graduate with an MCP from the University of Pennsylvania in 2024. 
Member, Urban Land Institute & American Planning Association